The JEDCO Challenge would not be possible without the support of our local business community.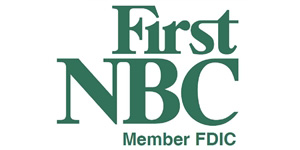 The 2017 JEDCO Challenge will be powered by First NBC Bank, our presenting sponsor for the fourth year in a row.
JEDCO currently seeks contributing sponsors for this annual event.  If you're interested in committing in-kind services or direct capital towards the JEDCO Challenge prize package, you can learn about our different levels of sponsorship here: Sponsorship Tiers 2017 If you are interested in becoming a JEDCO Challenge sponsor, please email Kelsey Scram at kscram@jedco.org or call her at (504) 875-3927.
Our sponsors have donated money, time, and in-kind services to ensure that the JEDCO Challenge has a positive impact on regional entrepreneurs and the Jefferson Parish community. Please take a minute to look through the list of sponsors for the event. Their kindness gives us the chance to connect vision with opportunity.
2017 Partners
Idea Village, Jefferson Chamber of Commerce, Gillis, Ellis & Baker,  Jefferson Parish, New Orleans BioInnovation Center, the LSBDC GNOR, Tulane University A.B. Freeman School of Business, Elmwood Business Association, Goldman Sachs 10,000 Small Businesses at Delgado Community College,  Greater New Orleans, Inc., Xavier University, Lee Pryor, Urban League of Louisiana
2017 Sponsors
365 Connect, Ardyn Thriffiley & Associates, Carver, Darden, Koretzsky, Tessier, Finn, Blossman & Areaux, LLC, Biz New Orleans, Connect2Sell, Daul Insurance, First NBC Bank, Gillis, Ellis & Baker, Innovation Ochsner, Jefferson Chamber, LaPorte CPA's and Business Advisors, Louisiana Small  Business Development Center, Postlethwaite & Netterville, & Touchpoints Marketing & Advertising