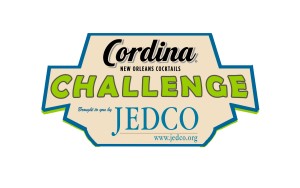 CONGRATULATIONS TO BE WELL NUTRITION, INC, Winner of the first-ever Cordina Challenge!
The Cordina Challenge is a pitch competition for Jefferson Parish entrepreneurs. In the midst of New Orleans Entrepreneur Week, the entrepreneurs chosen to compete in the Cordina Challenge will pitch their ideas in front of a live audience in Fat City.
More than that, it is an opportunity to connect with our local up-and-comers while also showcasing the entrepreneurial ecosystem in Jefferson.  The Cordina Challenge is more than a competition. It's a call to action.
Collaborate: JEDCO teamed up with Cordina New Orleans Cocktails in partnership with Idea Village and the Jefferson Parish Chamber of Commerce
Connect: Our goal is to elevate opportunities for entrepreneurs by uniting them with the Jefferson Parish business community. We want our startups to communicate with today's business leaders, establishing relationships that will provide access to direct capital, business resources and mentorships.
Celebrate Creativity:  Five entrepreneurs, four startups. One winner!
Be Well Nutrition: Billy Bosch
Be Well Nutrition has launched ICONIC, a healthy lifestyle beverage made with all natural ingredients. This unique drink provides customers with a delicious taste experience, healthy energy and increased focus. It is the only all-natural and nutritionist developed and recommended product in the beverage category. With a single daily serving of protein, vitamins, fiber and minerals, ICONIC provides consumers with what they need without having to stop for a meal. There's nothing quite like this drink on the market right now.
The Clinicate™ file-sharing platform gives healthcare providers and patients a unique and easy way to access and electronically share information related to medical and pharmaceutical products, medical conditions, and treatments.  Clinicate's web and mobile applications are designed to promote clinical education, awareness and collaboration with the common goal of improving patient care and outcomes.
Memorandom is a private communication platform that allows individuals to capture and selectively share everyday moments with close friends and family. Think about the last conversation you had with a close friend or family member. Do you remember when it was, where you were or what you talked about? Shouldn't text messaging and other digital communication platforms reflect how we categorize, find and recall those moments? Memorandom seamlessly integrates the privacy of sharing through text messaging and chat while organizing it into a searchable format based on user created tags, location and people – all preserved for posterity.
ZingBoard: Jim Blitch and Aimee Adatto Freeman
An online, self-evaluation tool for students in 1st through 8th grades, ZingBoard measures and celebrates individual accomplishments in the school, home and community. Those measurements can then be tied with a school's value systems. ZingBoard is a secure online software to commemorate accomplishments in soft skills. It also provides school administrators with a simple, efficient and powerful tool to analyze a school's impact on student values. This data can be very useful differentiating the school on grant applications, refining the school culture, and individualizing classroom curriculum. ZingBoard measures the school within the child.
Criteria: In order to compete, entrepreneurs had to: live, work or market in Jefferson Parish, generate between $0-$1 million in revenue; have between 0-10 employees, and be a for profit company. We're looking for big ideas with the high potential to grow and positively impact the community.
Coach: Now that we've chosen our finalists,  they'll be given several weeks of pitch prep to get ready for the competition. They're crafting their pitches through practices in front of a panel of experts who will provide feedback to help build their pitch.
Compete: Finalists will take to the stage in Drago's Empire Room at 2:00 on March 19th to pitch their business in front of an audience of their peers and a panel of Jefferson Parish judges. The winner takes home a prize package worth over $43,000 of in kind services and direct capital to help grow their business in Jefferson.
Community: We want the community to be a part of the entrepreneurial movement in Jefferson Parish. Register for the Cordina Challenge on March 19th to see some of our best and brightest celebrate what makes them unique. Get involved in what we're doing and help us connect our entrepreneurs with the community.
Calendar: The Cordina Challenge is just a few months away, but there are lots of important dates to remember between now and March 19th.  Mark your calendars with some of the dates below, so they'll stay fresh in your minds.
February 19th – Application Deadline
March 1st – Finalists chosen
March 12th-March 15th – Pitch Practice
March 19th – CORDINA CHALLENGE
Cooperation: We couldn't do this without the help from our community partners and local businesses. They have donated money, time and in kind services to make sure that the Cordina Challenge has a positive impact on our entrepreneurs and the community. Please take a minute to look through the list of sponsors for the event. Their kindness gives us the chance to connect vision with opportunity.
Click here to register.