Churchill Technology & Business Park designated as Fiber Ready
AT&T1 today joined the Jefferson Parish Economic Development Commission (JEDCO) to announce that the Churchill Technology & Business Park in Avondale has been designated AT&T Fiber Ready.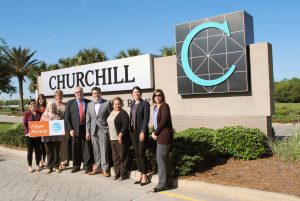 "Fiber is a key component to infrastructure preparedness, and the AT&T Fiber Ready designation helps publicize Churchill Technology & Business Park as ready for further advanced development," said Jerry Bologna, President and CEO of Jefferson Parish Economic Development Commission.  "We can assure companies looking to locate and expand in this area that this development can provide the high-speed connectivity they require to do business globally, right here from Jefferson Parish."
AT&T has been deploying high-speed fiber-optic infrastructure across Louisiana for years. The AT&T Fiber Ready designation provides a new tool for economic development leaders. Using it, they can emphasize that fiber-based connections are available at these locations.
With AT&T Fiber Ready, businesses can:
Enjoy an all-in-one network that can carry video, voice and data.
Utilize high-speed, reliable and secure internet connectivity and,
Access mobility and backup solutions including videoconferencing, Virtual Private Networks and the cloud.
"AT&T is investing in high-speed Internet in urban and rural areas all across Louisiana using the latest wired and wireless technologies, and we are proud to highlight the Churchill Technology & Business Park as one of the many places in Louisiana where AT&T's fiber infrastructure is in place and ready to help community leaders drive innovation and job creation," said Leo Marsh, AT&T External Affairs Regional Director. "Positive, pro-business policies continue to make Louisiana a great place to invest. AT&T has invested more than $1 billion in its best-in-class wired and wireless networks in Louisiana from 2013-2015 to enable Louisianans to connect and innovate."
1 AT&T products and services are provided or offered by subsidiaries and affiliates of AT&T Inc. under the AT&T brand and not by AT&T Inc.
About AT&T
AT&T Inc. (NYSE:T) helps millions around the globe connect with leading entertainment, mobile, high speed internet and voice services. We offer entertainment your way on the nation's best data network.* We're one of the world's largest providers of pay TV. We have TV customers in the U.S. and 11 Latin American countries. And we offer the best global coverage of any U.S. wireless provider.** We also help businesses worldwide serve their customers better with our mobility and highly secure cloud solutions.
Additional information about AT&T products and services is available at https://about.att.com. Follow our news on Twitter at @ATT, on Facebook at https://www.facebook.com/att and YouTube at https://www.youtube.com/att.
© 2017 AT&T Intellectual Property. All rights reserved. AT&T, the Globe logo and other marks are trademarks and service marks of AT&T Intellectual Property and/or AT&T affiliated companies. All other marks contained herein are the property of their respective owners.
*Claim based on the Nielsen Certified Data Network Score. Score includes data reported by wireless consumers in the Nielsen Mobile Insights survey, network measurements from Nielsen Mobile Performance and Nielsen Drive Test Benchmarks for Q2+Q3 2016 across 121 markets.
**Global coverage claim based on offering discounted voice and data roaming; LTE roaming; and voice roaming in more countries than any other U.S. based carrier. International service required. Coverage not available in all areas. Coverage may vary per country and be limited/restricted in some countries.
For more information, contact: 
Tarvis Thompson
AT&T Corporate Communications
404-986-0550
tarvis.thompson@att.com