Select Comfort hosts grand opening of Relationship Center in Jefferson Parish
The Jefferson Parish Economic Development Commission (JEDCO), in conjunction with Louisiana Economic Development and Greater New Orleans, Inc., celebrated the grand opening of the new Select Comfort Corporation Relationship Center in Jefferson Parish Wednesday.  The $1.3 billion publicly-traded company opened the Elmwood facility in mid-August after hiring 133 regional team members. The company plans to create at least 225 full-time jobs by the end of 2019. The center provide sales and support services for customers of the company's Sleep Number® beds and accessory products.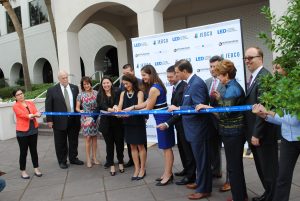 Select Comfort, creator of the Sleep Number bed, worked with JEDCO and Louisiana Economic Development to host a hiring event at the JEDCO Conference Center in June. The company exceeded hiring goals in just three days, offering jobs to over 100 people with an annual starting salary of $30,000, plus benefits. The company continues to hire for the new center. Interested applicants can find job opening information at LouisianaSleepNumberJobs.com.
Select Comfort's entrance into Jefferson Parish marks the completion of a competitive, multi-state selection process. The company located in Jefferson Parish for a variety of reasons, including the area's skilled workforce, amenities, and the availability of a building suitable for its needs. Select Comfort utilizes more than 28,000 feet of office space, backfilling an area previously occupied by Stewart Enterprises.
"In conjunction with our Minneapolis office, our new Sleep Number New Orleans Relationship Center supports the growth of our company, enabling us to continue to provide excellent service to our customers," said Melissa Barra, Chief Strategy and Customer Relationship Officer. "New Orleans is the perfect fit for our second location, with its warm service culture and strong partnership from the state and local government."
JEDCO played an important role in the attraction of Select Comfort to Jefferson Parish. The organization arranged site visits, connected the Select Comfort team with other service centers in the Parish for industry insight, and provided hiring support. With help from the parish, JEDCO assisted the national brand with the relocation of furnishings into the new office. In addition to that, LED offered Sleep Number a competitive incentive package and access to the comprehensive solutions of LED FastStart®, the nation's number one state workforce training program.
"Jefferson Parish will benefit greatly from these new employment opportunities," said JEDCO President & CEO Jerry Bologna. "The collaborative effort of state, regional, and local organizations solidified this major economic development win for Jefferson Parish. The JEDCO team is proud of the role it played to enhance the region's business climate through the attraction of this national brand. We look forward to supporting Select Comfort's aggressive hiring plan and creating a long-term relationship that will capture the company's future growth in our area."
"Along with the entire Parish Council, I am honored to welcome Select Comfort and Sleep Number to Jefferson Parish," said President Mike Yenni. "We are proud of Jefferson Parish's robust business climate, quality workforce and unique assets, such as the thriving Elmwood corridor which has become Select Comfort's new home. These many qualities set Jefferson Parish apart and make us a desirable destination in which to do business. We look forward to supporting Select Comfort as they continue to create quality job opportunities for our residents."
"On behalf of our entire region, I am pleased to welcome this publicly-traded company as the newest member of the Jefferson Parish business community," said Michael Hecht, President and CEO of Greater New Orleans, Inc. "We are honored to have been part of a unified team of organizations, which worked with Select Comfort leadership to choose Elmwood as the right location for this center. This is a great recognition of our business climate and the caliber of work performed by the men and women of this region."
"On behalf of the State of Louisiana, I am proud to welcome Select Comfort's technical support contact center to Jefferson Parish," Gov. John Bel Edwards said. "Select Comfort produces some of the best-known brands in the industry, and I am confident that the company will have tremendous success in identifying excellent talent to support their center. Select Comfort's selection of Louisiana for its new contact center is a testament to the high-quality talent in our state, and I congratulate the entire Select Comfort team on launching this new chapter."
The new center includes support for SleepIQ® technology. Integrated into Sleep Number beds, SleepIQ tracks a person's sleep to offer insights and make suggestions for better quality sleep. The Jefferson Parish-based center features Sleep Number beds to help personnel assist customers with product and service inquiries.
The Sleep Number service center is located at the Service Corporation International Building (formerly Stewart Enterprises) at 1333 South Clearview Parkway in Elmwood.
SaveSave