JEDCO Launches Cordina Challenge for local entrepreneurs
The Jefferson Parish Economic Development Commission (JEDCO) and Cordina New Orleans Cocktails, in partnership with the Jefferson Chamber and Idea Village, are pleased to announce the launch of the first-ever Jefferson Parish entrepreneur challenge. In an effort to identify and assist entrepreneurs in the area, Cordina and JEDCO teamed up to create the Cordina Challenge, a pitch competition for entrepreneurs living and working in Jefferson.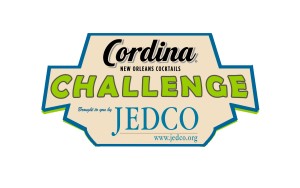 JEDCO and Cordina are relying heavily on cooperation from the entire community to make this challenge possible.  This collaboration will showcase the entrepreneurial ecosystem in Jefferson Parish, while also elevating opportunities for companies in their earliest stages. Our goal is to connect our up-and-comers with today's business leaders through direct capital, business resources and mentorships.
The Cordina Challenge will be held in conjunction with The Idea Village's New Orleans Entrepreneur Week (NOEW.) NOEW is a week-long celebration of entrepreneurship and innovation in the region, garnering national attention and bringing thousands of people to attend more than 75 events to support local entrepreneurs.
Entrepreneurs are urged to apply for the Cordina Challenge on JEDCO's website. They must meet the following criteria to be eligible to compete:
Must live or work in Jefferson Parish
Must generate between $0-$1 million in revenue
Must have between 1 and 10 employees
Must be a for-profit company
Must have a unique idea with the high potential to grow and positively impact Jefferson Parish
Applicants will be narrowed down through a rigorous review process. Finalists will compete in front of a live audience and panel of well-known Jefferson Parish judges on March 19th at 2:00 P.M. in Drago's Empire Room. The winning company will receive a prize package of direct capital and in kind services to be used to help grow their company in Jefferson.
"This is an exciting event for Jefferson Parish," says JEDCO Executive Director Jerry Bologna. "Entrepreneurs are the future of Jefferson Parish and they will play a major role in shaping the way we live and work. We are proud to help connect these creative minds with our community leaders, and we look forward to establishing a strong support system moving forward."
"Cordina New Orleans Cocktails is proud to be able to give back to the community that has done so much for us over the past few years," says Cordina New Orleans Cocktails co-founder Sal LaMartina."Supporting the Entrepreneurs in our community is vital to our long-term development.  We believe that fostering a culture that embraces entrepreneurship is the back bone of our economy."
This event would not be possible without assistance from our Jefferson Parish businesses and organizations. We would like to thank the following for their sponsorship of the event: The Idea Village, Jefferson Parish Chamber of Commerce, Cordina New Orleans Cocktails, Drago's Seafood Restaurant and Michael Osborn Designs. We are still accepting additional donations of in kind services or money to grow The Cordina Challenge prize package.
The deadline to apply for the Cordina Challenge is February 19th.  For more information, check out the Cordina Challenge Information Center»