JEDCO Welcomes Starr Textile Services to Jefferson Parish
The Jefferson Parish Economic Development Commission (JEDCO) and Jefferson Parish are pleased to welcome Starr Textile Services to the Elmwood Business Park. The woman-owned company, which provides commercial laundry services to the hospitality industry, has purchased a new facility in Jefferson Parish.
JEDCO and Starr Textile Services have worked closely for more than two years to secure the right site to host the expanding business. With the new building chosen and big plans for growth, Starr applied for an SBA 504 Loan. JEDCO's finance team worked tirelessly to secure the loan, which is to be used for acquisition of land and building, new commercial laundry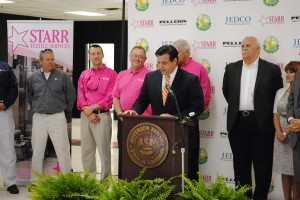 equipment and funding of building renovations. Of the more than $10 million investment, JEDCO will finance over $4.3 million of it, making this the largest SBA 504 loan in JEDCO history.
At Tuesday's press conference, Starr announced the completion of the loan allows the Louisiana plant to undertake additional customers in both the Louisiana and Mississippi markets.  The new facility will create 40 new jobs immediately, with another 25 people being hired in the first two years of receiving loan funding. The expansion will also allow Starr to increase its capacity to over 6,000 pounds of laundry per hour to service hotels, restaurants and condominium property management partners 24 hours a day, seven days a week.
"This move has been a long time in the making," says JEDCO Executive Director, Jerry Bologna. "I commend the JEDCO team, the Parish President and Parish Department directors for their unwavering commitment to this project. We are confident that Starr Textile Services will find unprecedented success in Jefferson Parish. JEDCO remains dedicated to Starr and their team as they expand their operations in Louisiana."
Starr announced a partnership with Pellerin Laundry Machinery Sales Company and sister company, Pellerin Milnor Corporation. The local laundry equipment manufacturing and sales companies, based out of Kenner, will design and equip the new facility. Starr expects to purchase over $4.5 million-worth of state-of-the-art equipment, including the Milnor PulseFlow® tunnel washer that uses as low as 0.3 gal/lb fresh water, without compromising wash/rinse quality. The equipment will be built in Jefferson Parish by the dedicated employees of Pellerin Milnor.
"A partnership between Starr Textile Services, Pellerin Laundry Machinery Sales Company and Pellerin Milnor Corporation is truly indicative of Jefferson Parish's versatile business-base," says Parish President John F. Young. "Not only did Starr find a new home in Jefferson Parish, where the company can expand and find success, but it also moved closer to a company that can service its equipment needs. Jefferson Parish businesses don't have to look beyond the region to find what they need. What they need is right here in their own backyard."
Sheila Hodges, owner and Chairman of SH Enterprises, the umbrella company over Starr Textile Services LLC of Louisiana, is an entrepreneur and visionary, and thus the driving force behind this venture. Sheila is committed to the highest standards of quality services to enhance the visitor experience and the businesses that serve them. Sheila's first 30,000-square foot state-of-the-art laundry was built in Foley, Alabama. It was also designed/equipped by Pellerin Laundry Machinery Sales Company, which utilized laundry machinery manufactured by Pellerin Milnor.
Sheila explained, "Pellerin and Starr make great partners because our business principles and high standards for customer service are aligned. The New Orleans area has been very good to us. Therefore, our commitment back to this area, and now to Jefferson Parish as well, is that we will continue to invest in the community. We will continue to train, improve and grow our workforce. We will continue to be the driving force in the advancement of our industry. Thank you for that opportunity."
"We are very proud to be partnering with Starr Textile Services on this state-of-the-art laundry facility," adds Scott McClure, Vice President of Sales of Pellerin Laundry Machinery Sales Company, Inc. "In 2008, we designed and equipped Starr's laundry facility in Foley, AL and are excited about their new facility to serve the Greater New Orleans market.  This new laundry will be minutes away from our Kenner plant and will have some of the latest energy saving technology, including a Milnor PulseFlow® Wash System that will annually process millions of pounds of linen while utilizing less than half a gallon per pound.  Considering that conventional washers can utilize up to 3.5 gallons per lb., this laundry will be one of the most efficient laundry facilities in the country."
"Clean, pressed linen is a must in the hospitality industry, and that's what Starr provides all day, every day: consistent quality and consistent customer service," says Les Williams, Starr Textile Services COO. "Starr does this while 'in the green.' Environmentally friendly chemicals, heat reclamation systems, the commercial laundry industry's lowest water usage per pound, and recycling programs make our declaration of being 'green' more than just words."
"Starr Textile Services' decision to expand business in Jefferson Parish is another sign that our region is the right fit for companies looking to grow," says Michael Hecht, President & CEO of Greater New Orleans, Inc. "Not only does Starr's partnership with Pellerin Milnor highlight the unique opportunities for expansion that exist in our region, it's also a sign of the strength of our tourism industry, one of the biggest employers in Greater New Orleans."
Starr Textiles plans to fully move into the new building by August 2013.