Cordina New Orleans Cocktails wins 2013 Louisiana Lantern Award
From small startup to serious success story, Cordina New Orleans Cocktails has worked its way into the spotlight over the last several years, charming consumers with its unique spin on the classic margarita. The company, which manufactures frozen adult beverages in on-the-go pouches, has raked in a number of accolades since its inception in 2007. The company has received recognition for innovative packaging, creativity and entrepreneurship. Tuesday night, Cordina New Orleans Cocktails added another distinction to their trophy shelf: a 2013 Louisiana Lantern Award.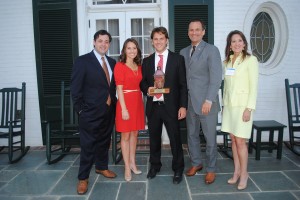 Louisiana Economic Development (LED) presented Cordina with the award at a special reception at Governor Bobby Jindal's home Tuesday evening. The Louisiana Lantern Awards provide an opportunity for the state to celebrate manufacturers from each district across Louisiana. The winning companies showcase a contribution to the Louisiana economy and to their local communities through employee growth, increase in revenue, facility expansion and community engagement.
The Jefferson Parish Economic Development Commission (JEDCO) nominated Cordina New Orleans Cocktails for the District 1 award this year. The beverage business competed with companies from a five-parish region to eventually emerge the winner of the prestigious state award.
Cordina New Orleans Cocktails, pioneered by brothers Sal and Antonio LaMartina and close friend Craig Cordes, came into existence on a beach. When the three friends tried to enjoy frozen margaritas, sand and sunshine proved a poor combination for sipping summer drinks out of a regular cup. The pre-mixed drinks melted quickly. When a child carrying a juice pouch crossed their path just moments later, the wheels of entrepreneurship began turning.
Two years later, the entrepreneurs moved the company into a 6,000-square foot facility in Kenner and went to work producing their portable drinks in environmentally-friendly pouches. In 2011, the company outgrew its facility and moved to Elmwood. Today, the Cordina line is available in 44 states in the U.S. and five foreign countries with eight flavors on the shelves. It now has 135 employees and is on track to bring in more than $18 million in revenue in 2013 with no signs of slowing.
Not only does this powerhouse manufacturer provide a continual boost to the Jefferson Parish economy, but the founders of the company remain champions of the entrepreneurial movement happening in the region. In 2013, Cordina was the title sponsor of JEDCO's first-ever Jefferson Parish-based pitch competition for local entrepreneurs. The event, held during New Orleans Entrepreneur Week, attracted more than 115 people to support four up-and-coming businesses in the area. Cordina directly contributed to the prize package with a major donation and opportunities for mentorship.
"Cordina New Orleans Cocktails is highly deserving of the 2013 Lantern Award," says JEDCO Executive Director Jerry Bologna. "The company exemplifies all of the qualities of a successful manufacturer. With strong growth in both sales and employment, this innovative business continues on a fast-paced track to outperform itself every year. I look forward to watching the company grow and find success in Jefferson Parish in the future."
"Cordina New Orleans Cocktails is an inspiration to entrepreneurs in Jefferson Parish," says Jefferson Parish President John Young. "This company has not only proven itself as one of our Jefferson Parish success stories, but Cordina continues to give back to the region it calls home. This nationally recognized company embodies the true spirit of Jefferson Parish, working diligently to improve the economy through hard work and community engagement. The three men behind this innovative idea are truly deserving of such a prestigious award."
Cordina co-founder and CEO, Sal LaMartina, accepted the award on behalf of the company. He was presented with a custom-built, hand crafted copper Lantern constructed with Louisiana cypress by Bevolo Gas and Electric Lights of New Orleans. For more information on the Louisiana Lantern Awards, click here.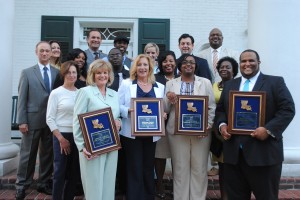 Four Jefferson Parish organizations were also recognized at the Governor's Mansion Tuesday. Jefferson Parish Community Development, Jefferson Parish Community Action Programs, Jefferson Parish Business and Career Solutions Center and the Jefferson Parish Animal Shelter were all Level 1 Louisiana Performance Excellence Award recipients.
The 2012 Louisiana Quality Foundation Awards are given to both for-profit and non-profit Louisiana organizations in the areas of manufacturing, service, healthcare, education and the public sector. Using the Baldrige Criteria for Performance Excellence, these organizations have a proven record of improving results, reaching goals and becoming more competitive through a focus on innovation management, intelligent risk and strategic priorities, social media, operational effectiveness and work systems and core competencies. To learn more about the Louisiana Quality Foundation Award, click here.