JEDCO Hires New Manager of Innovation and Entrepreneurship
The Jefferson Parish Economic Development Commission (JEDCO) is pleased to welcome the new Innovation and Entrepreneurship Manager to the team. Alan Allgood comes to us with an extensive background in entrepreneurship and business experience with an emphasis on health care and information technology.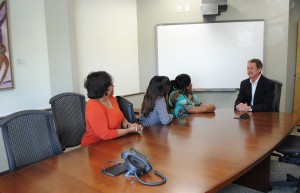 Prior to joining the JEDCO team, Alan was the Executive Director of Goodwill's Food and Technology Incubator (Edible Enterprises) in Norco, La. Through his position with the food incubator, he provided consultation to more than 65 aspiring startup companies. Before assuming his role at Edible Enterprises, Alan held a number of different positions throughout a variety of industries. He got his start in the oil industry and oversaw 13 locations stretching between Brownsville, TX to Mobile, AL for  Fortune 500 company, Tesoro Petroleum. He was also the owner/CEO of a number of businesses in the health care, technology and oil industries.
Alan's vast experiences in entrepreneurship and technology made him the ideal candidate for his new role at JEDCO. Alan will be responsible for improving the entrepreneurial landscape in Jefferson Parish while also taking charge of the Business Innovation Center, JEDCO's business incubator.
The Business Innovation Center is located at the Churchill Technology and Business Park in Fairfield, La. It is designed to connect entrepreneurs with the resources they need to help transform ideas into viable business ventures. The incubator offers below-market rate office space and a wide range of tools to help companies get started, including office furniture, telephone services, wireless internet, a copy and fax machine, conference rooms, video conferencing, Smartboard technology and 24/7 secure access. Alan will work closely with tenants to craft those startup companies into high growth ventures.
"This is a great opportunity to be part of the growth within the Churchill Technology and Business Park on the West Bank, where we are already fortunate enough to house the JEDCO Business Innovation Center, the JEDCO administrative offices and the Patrick F. Taylor Science & Technology Academy," Alan said of his role within the organization.  "I am truly excited about being a part of the future for the startup companies that plan to grow through our incubator program as well as the development of the Technology Park. It will be amazing to watch it all come together".
"We are excited to welcome Alan to the organization," says Jerry Bologna, Executive Director of JEDCO. "We want to continue our role within the entrepreneurial movement in Jefferson Parish, and we believe Alan's expertise will allow us to better connect with the region's up-and-coming businesses."
To learn more about the Business Innovation Center, contact Alan Allgood at (504) 875-3928 or email him at aallgood@jedco.org.