PortaVision Medical wins second annual JEDCO pitch competition
The Jefferson Parish Economic Development Commission (JEDCO) and First NBC Bank are pleased to announce the winner of the second annual JEDCO Challenge. PortaVision Medical, an x-ray system that improves the quality of care for premature babies based out of Jefferson Parish, took home the top prize at Tuesday's event. David Bode, the company's Director of Strategy and Finance, presented the winning pitch.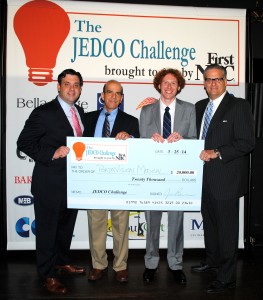 Founder, Terry Ancar, designed and manufactured the NeoRay Portable Digital X-Ray System after recognizing a real need in neonatal care units. Currently, the X-Ray devices used on adult patients are also used in Neonatal Intensive Care Units for imaging of fragile premature babies. The NeoRay is a small, compact system that is specially designed to be used in Neonatal Intensive Care Units right at the incubator. In comparison to the 1,200-pound X-ray systems currently being used, the NeoRay will greatly enhance and improve the healthcare of preterm babies by saving imaging time, reducing infant radiation exposure and improving the physician's ability to make critical treatment decisions quickly. Already, PortaVision has several units in hospitals across the country, including one that was donated to Children's Hospital in New Orleans by Saints player, Marques Colston.
Held during New Orleans Entrepreneur Week, an event spearheaded by Idea Village, the JEDCO Challenge is a pitch competition to highlight entrepreneurs with ties to Jefferson Parish. Five startups were chosen out of 44 applicants to compete in Tuesday's event at Southport Hall. Alexander Girau of ADVANO, Alex Goss of The Collector, Blaine Lindsey of GetHealthy, Inc. and Sean Carrigan of MobileQubes joined Bode to compete for the Jefferson Parish prize package.
The entrepreneurs pitched to over 100 people at Southport Hall Tuesday. The winner was partially chosen by a panel of Jefferson Parish business leaders: Betsie Gambel, founder of Gambel Communications; Michael Hecht, President and CEO of Greater New Orleans, Inc.; Clayton White of Simmons & White and The South Coast Angel Fund; Mike LeBeau of First NBC Bank and Leo Holzenthal of MS Benbow & Associates.  The judges scored the pitches on presentation, innovation, ability to answer questions effectively, Jefferson Parish impact and company scalability. The entrepreneurs also received points based on a crowd vote and business plans submitted in advance of Tuesday's pitch competition.
"I am impressed with the quality of the startups that participated in the JEDCO Challenge. All of the entrepreneurs involved in the Challenge represent the future wave of business leaders in Jefferson Parish and we look forward to seeing all of them find success in our community," says Jerry Bologna, JEDCO Executive Director. "PortaVision truly proved its capacity to grow and positively impact Jefferson Parish through its neonatal x-ray system. JEDCO will remain at the ready to support PortaVision, and all of the small businesses involved, as they continue to move forward to the next level of success."
"This is a truly momentous occasion for PortaVision Medical," says founder and CEO, Terry Ancar. "This has been a process six years in the making. Winning the JEDCO Challenge presents a huge opportunity for this company and we look forward to putting the prize package to good use. We want to thank JEDCO and Jefferson Parish for their support and look forward to improving healthcare for premature babies in Jefferson Parish and across the region for many years to come."
PortaVision Medical won a prize package worth almost $80,000 in cash and business services, including:
$20,000 in cash provided by First NBC Bank, 1st Lake Properties/Bella Ridge Apartments, Atmos Energy, MMI Culinary Services and Postlethwaite & Netterville
Professional accounting and tax services from LaPorte CPA's and Business Advisors
Facilitated planning from A Journey to Success
20 hours of PR services from Gambel Communications
12 hours of strategic competitive intelligence research to gain knowledge of the industry from Ardyn Thriffiley and Associates
Legal hours from Baker Donelson
A year of weekly sales training with Sandler Training
Free business consulting with the Cordina New Orleans Cocktails team
Complimentary Jefferson Chamber membership and a meeting with Chamber president, Todd Murphy
Interview on Cox 4's Across Louisiana
Insurance and risk management consulting with the Gillis, Ellis & Baker team
Design and creation of a website from Compucast Web Design
Free training workshops from the LSBDC for the top three companies
Design engineering, professional drafting, consulting engineering, project management and telecommunications from MS Benbow & Associates
Free office space at the Business Innovation Center at Churchill
"The JEDCO Challenge provides a wonderful platform for the companies participating," adds First NBC Bank President & CEO Ashton Ryan. "Not only does it connect these entrepreneurs with businessmen and women who can help them grow and achieve success in Jefferson Parish, but it also gives our community a real opportunity to see the true talent, energy and creativity present in our community right now."
The JEDCO Challenge would not have been possible without support from the regional business community. JEDCO would like to sincerely thank everyone who made this event possible in its second year.
SPECIAL THANKS TO OUR 2014 SPONSORS: A Journey to Success, Ardyn Thriffiley & Associates, Atmos Energy, Baker Donelson, Business Innovation Center at Churchill, Compucast Web Design, Cordina New Orleans Cocktails, Cox Communications, First Lake Properties, First NBC Bank, Gambel Communications, Gillis, Ellis & Baker, LaPorte CPAs and Business Advisors, LSBDC GNOR, Jefferson Chamber, MMI Culinary Services, MS Benbow & Associates, Postlethwaite & Netterville and Sandler Training.
2014 Partners: Idea Village, Jefferson Chamber of Commerce, 504ward, Jefferson Parish, New Orleans BioInnovation Center, the LSBDC GNOR, Metro NOLA Source Link, 10,000 Small Businesses at Delgado and Greater New Orleans, Inc.
###
About First NBC Bank: First NBC Bank received a charter to begin operation from the Louisiana Office of Financial Institutions in May 2006. Through overwhelming support from the local community, the Bank's initial capital footings exceeded $60 million, which set a record for the largest initial capital raised by a Louisiana chartered institution. There are 31 banking offices on the South and North Shores of the Greater New Orleans metropolitan area. First NBC Bank has been selected as one of the Best Places to Work six times in a row New Orleans CityBusiness.
The bank's mission is to deliver world-class service through developing long-term relationships with clients while providing a great place to work for its employees and demonstrating outstanding corporate citizenship within its communities, resulting in exceptional returns for its shareholders.
ABOUT NOEW: The culmination of the Idea Village's annual Entrepreneur Season, NOEW has become the premiere showcase event for the New Orleans entrepreneurial ecosystem. NOEW 2014 is expected to engage 5,000+ of the nation's most innovative business leaders, financiers, entrepreneurs and students.