District Donuts.Sliders.Brew opens first location in Jefferson Parish
The Jefferson Parish Economic Development Commission (JEDCO), along with elected officials and community leaders, celebrated District Donuts. Sliders. Brew's entry into the Jefferson Parish market Thursday. The specialty restaurant, which serves up a rotating mix of handmade donuts and sliders daily, has become increasingly popular in the Greater New Orleans area and has garnered national attention for its unique spin on more traditional offerings. The new location in Elmwood, which is the first in Jefferson Parish, will offer signature donuts, sliders, and coffee, as well as several beers.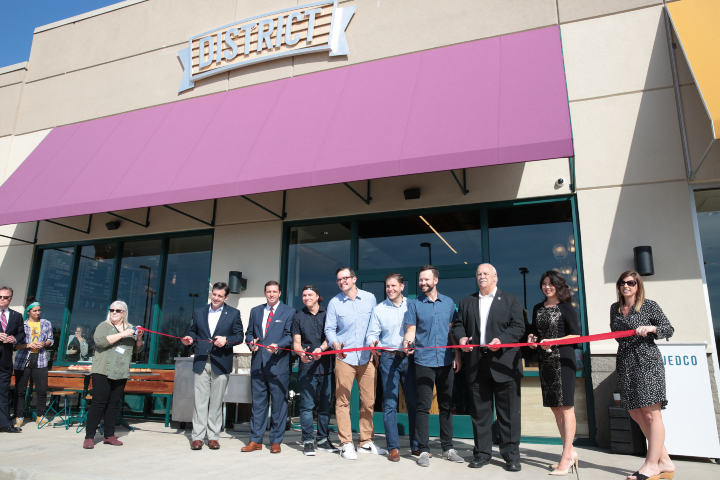 The restaurant opened its doors to the public in mid-February. Since then, District created 30 jobs at the Elmwood location, 75% of which are full-time. An additional 43 jobs were created during the design and construction of the new restaurant. The District team anticipates an economic impact of over $195,000 in sales tax revenue for Jefferson Parish annually. District has long been committed to working with local companies that serve the community. It currently partners with more than 15 regional businesses, including Postlethwaite & Netterville, Lauricella Land Company, and Crescent City Packaging, just to name a few.
JEDCO played an important role in bringing District to Jefferson Parish. Not only did JEDCO finance the Elmwood project, which covered leasehold improvements, equipment, and working capital, but the economic development organization also financed District's food prep commissary in the City of Gretna. The commissary services all four of District Donuts locations throughout the region.
"We are proud of our partnership with District Donuts," said Jerry Bologna, JEDCO President & CEO. "The opening of District Donuts in Jefferson Parish speaks volumes to the community's continued growth and accessibility. The Elmwood Shopping Center, in particular, has become a desirable mixed-use destination for popular retailers, restaurants, and commercial activities. District's entrance into our market is another example of that progress. We look forward to continuing our relationship with the District team as they expand throughout the region and accomplish new goals."
"JEDCO has been a strategic partner in helping us accomplish our goals," said Aaron Vogel, District Donuts co-founder. "District is very excited to grow into the Jefferson Parish market as part of our larger plans for expansion. We look forward to a continued partnership with JEDCO and the Jefferson Parish community moving forward."
The opening of the new Elmwood location is part of a larger expansion plan for the District team. They will open a new restaurant in Baton Rouge later this year, bringing their total employee count to 145 across the state.
District's new Jefferson Parish store is located at 1126 S. Clearview Pkwy, Suite D in Elmwood. It is open Sunday – Thursday from 7 a.m. – 9 p.m. and Friday-Saturday from 7 a.m. to 10 p.m.
###
ABOUT DISTRICT: Founded in 2013, District Donuts specializes in unique donuts, sliders, and coffee. The team makes everything from scratch, using real food made with integrity. The company offers seven rotating donuts daily, with over 100 options in their catalog, while also providing some set staples: glazed, cinnamon sugar and chocolate glazed. Additionally, the popular restaurant offers a rotating selection of fresh-to-order sliders using the highest quality meats. District partners with local farmer's markets and Louisiana-based vendors to keep business in the state. District believes the best coffee comes from a small artisan production, so from the beginning, the company made an unwavering commitment to small-based roasted coffee through its partnership with Stumptown coffee roasters. The business has four locations: three in New Orleans and one in Jefferson Parish. www.districtdonuts.com
About TurnChange: District falls under the TurnChange umbrella. TurnChange is the company's business worldview. Their goal is to Turn Profits and Change Lives. Everything they do is filtered through these two ideas. The business profits by creating a work environment that honors a commitment to be the cleanest, most organized, and systematic restaurant in local neighborhoods while executing recipes precisely every day. District equally values a workspace that holds the highest esteem for people in its restaurants and neighborhoods. The company changes lives by leading in a way that is life-giving and others-oriented in and amongst the District family first. The company founders believe healthy colleague relationships create emotionally stable and consistent work contexts, which will lead to changed lives for the better.