JEDCO President & CEO achieved economic development designation
(AVONDALE, La) – The Jefferson Parish Economic Development Commission (JEDCO) is pleased to announce the re-certification of President & CEO Jerry Bologna by the International Economic Development Council (IEDC). The designation of Certified Economic Developer (CEcD) is a national recognition that denotes a mastery of principal skills in economic development, professional attainment, and a commitment to professional growth.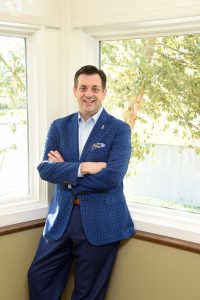 Jerry first achieved the prestigious Certified Economic Developer (CEcD) designation in 2011 after a rigorous three-part, two-day examination, which tested his knowledge, proficiency, and judgement in key areas of economic development. The CEcD exam has an average pass rate of 33%. After years of formal economic development training, Jerry passed his the exam on his first try. He earned CEcD re-certification in 2017, required every three years, by meeting a demanding list of requirements for continuing education and service to the profession.
Since 2000, Jerry has played a significant role in industry recruitment and business retention efforts throughout Jefferson Parish. Recently, he brokered the $1 billion investment of global industry leader Dyno Nobel America, attracting the company's state-of-the-art ammonia production facility to Waggaman. Additionally, he played a key role in the attraction of Sleep Number's Relationship Center to Jefferson Parish.  The $1 billion publicly traded national brand chose Elmwood after a competitive, multi-state selection process. Jerry's work with Ochsner Health System supports efforts to develop an underutilized stretch of Jefferson Highway into an international healthcare destination through nearly $400 million in capital improvements and the creation of an additional 3,200 jobs. He is currently directing efforts to repurpose the former Avondale Shipyard into a hub for port and manufacturing activity.
Jerry's contributions to the region's recovery efforts following Hurricane Katrina and the BP oil spill have been recognized by business and political leadership, including the White House and members of the US Senate. Since that time, he frequently receives requests by the International Economic Development Council to assist communities throughout North America in the development of business and economic recovery plans after disasters.
Under Jerry's leadership, the JEDCO team spearheaded the development of a Façade Improvement Program to encourage local businesses to revitalize their property and building exteriors through a forgivable loan program. The organization also oversees the implementation of the Jefferson EDGE 2020, Jefferson Parish's long-term economic development strategic plan. The IEDC reaccredited JEDCO in 2015, a prestigious honor shared by less than 60 economic development organizations in North America. Just recently, JEDCO was named to the inaugural UNO25, a list of high-performing regional businesses and organizations led by University of New Orleans alumni.
Throughout his 17-year career at JEDCO, Jerry has achieved many honors and recognitions. In 2011, the IEDC recognized Jerry as the New Economic Development Professional of the Year. In 2004, New Orleans CityBusiness named him one of the "Top 40 Under 40" and in 2012, he was named to the first-ever "40 Under Forty" in International Economic Development by Development Counsellors International. In 2013, Jerry was among 41 honorees listed in New Orleans Magazine as "People to Watch," which recognizes individuals who are doing new and notable things in the community. In 2016, the Bureau of Governmental Research recognized him for Excellence in Government.
"On behalf of the JEDCO Board of Commissioners, we are proud of Jerry's many accomplishments, leadership skills, and focus on business retention, attraction and expansion, which have allowed him to maintain this notable designation," said Bruce Layburn, JEDCO's 2017 Chairman of the Board. "His vision for the future and passion for enhancing the local business climate have made Jerry a true asset to JEDCO and Jefferson Parish. Under his leadership, JEDCO continues to be an economic engine for the entire Greater New Orleans region."
As highly skilled economic development practitioners, Jerry and over 1,000 other Certified Economic Developers work with public officials, business leaders, and community members to create and retain high-quality jobs, establish economic vibrancy, and improve quality of life for the people they serve.