JEDCO finances arts studio in Gretna
(KENNER, La) — The Jefferson Parish Economic Development Commission (JEDCO) celebrated the grand opening of a new performing arts facility on Sunday. Creative Dance & Music Studio utilized JEDCO's SBA 504 Loan Program to build a new state-of-the-art training center in unincorporated Gretna.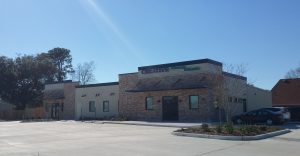 Creative Dance & Music Studio (CDMS) has been serving the West Bank community since 1985. What started as a small, one-room dance class has grown into a program that provides music and dance training to over 220 students a year. CDMS is a family business. Originally called Sissy Laumann Academy of Dance, the name was changed in 2004 when Lori Weil took over the business from her mother. The studio employs 16 people and offers lessons in piano, voice, guitar, ballet, tap, jazz, hip-hop and lyrical dance.
For years, Creative Dance and Music Studio leased a space in Harvey, but Weil always dreamed of owning her space. When the CDMS team identified the right piece of property on which to build, they contacted JEDCO. JEDCO financed over $600,000 of the $1.5 million project through the SBA 504 Loan Program for costs associated with the purchase of land and the construction of a new studio. The SBA 504 Loan Program is specifically designed to support small business owners through fixed-rate financing and borrower equity as low as 10%.
"Through the SBA 504 Loan Program, we are able to provide entrepreneurs with the financing needed to accomplish their business goals, achieve their visions for the future, and open their doors," says JEDCO President & CEO Jerry Bologna. "We are proud that our financing ability allowed Creative Dance & Music Studio to realize their dream of owning their own property. The arts play an important role in the cultural development of our community. It is pleasing to learn that CDMS can better serve their clients through access to our loan programs. We look forward to supporting their efforts as they continue to grow, thrive and enhance the creativity of our next generation."
The SBA 504 Loan program is a powerful economic development loan program that offers small businesses another avenue for business financing, while promoting business growth, and job creation.  The 504 Loan Program provides small businesses with long-term, fixed-rate financing used to acquire fixed assets for expansion or modernization.  As of February 15, 2012, the $50 Billion in 504 loans has created over 2 million jobs.  This program is a proven success and win-win-win for the small business, the community and participating lenders. JEDCO has provided SBA 504 Loans to a diverse range of businesses across the state including Atomic Burger, Pel Hughes Printing, Starr Textile Services, Boil Seafood, and many more.
"JEDCO has been amazing to work with," said Lori Weil, Director of Creative Dance & Music Studio. "They facilitated the loan process from start to finish, making all of it, including SBA, so easy for me. JEDCO's knowledge and helpfulness provided the support and guidance I needed to make this dream a reality. I couldn't have done it as efficiently without their partnership."
The new Creative Dance & Music Studio facility is located at 716 Bellemeade Blvd. in Gretna. Learn more about the performing arts studio here.
ABOUT CREATIVE DANCE & MUSIC STUDIO: Creative Dance & Music Studio (CDMS) offers three dance rooms and three music rooms to support the training of over 220 students each year. The company believes in providing excellent dance and music education and outstanding customer service to all clients. With an administrative team of five people and an additional 11 music and dance teachers on staff, CDMS believes in providing "more than just great dancing." CDMS' mission is to create cherished childhood memories and a love of music and dance that will last a lifetime.  Teaching goes beyond steps or techniques to develop students into strong, confident, successful future leaders. CDMS is Louisiana's charter affiliate of the organization "More Than Just Great Dancing." CDMS teachers continue to grow through professional development, such as attending conferences, seminars, training and conventions to stay up-to-date on the latest in teaching and training techniques, technology, and innovation. The studio offers lessons in piano, voice, guitar, ballet, tap, jazz, hip-hop and lyrical dance to students ages two and up.
ABOUT SBA 504 LOAN PROGRAM: The SBA 504 Loan Program helps small business owners startup, grow & thrive. JEDCO's program crosses Parish lines and can support a business located anywhere in Louisiana. Program features include borrower equity as low as 10%, below-market fixed rate, up to 25-year loan terms, and approvals using projected revenues. The January 2019 effective rates are at an all-time low. The 20-year fixed effective rate is 4.76%; the January 25-year fixed effective rate is 4.88%. Eligible uses for the SBA 504 Loan Program include purchase, renovation and construction of commercial property; purchase of new or used equipment or machinery; and debt refinance of fixed assets. Click here to learn more about JEDCO's SBA 504 Loan Program.