JEDCO unveils master plan for West Bank development
The Jefferson Parish Economic Development Commission (JEDCO) is pleased to announce the unveiling of the Churchill Technology & Business Park Master Plan. Approved for adoption by the JEDCO Board of Commissioners in February, the master plan will serve as the roadmap for continued development of the business park.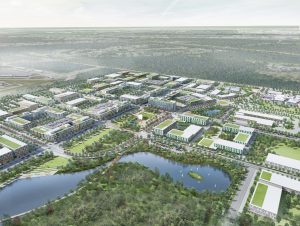 The Churchill Technology & Business Park is located on a 480-acre stretch of land on the West Bank of Jefferson Parish. It is currently home to JEDCO, JEDCO's Conference Center and Business Innovation Center, the Delgado Community College River City Site and Advanced Manufacturing Center, and the Patrick F. Taylor Science and Technology Academy, a top-performing magnet school emphasizing STEAM curriculum.
In 2015, JEDCO identified a need to develop a master plan for Churchill Park through the Jefferson EDGE 2020, the parish's long-term economic development strategic plan. The organization believed a master plan would help attract key industries and encourage growth in the greater Fairfield area, a 9,000-acre swath of land ripe for development on the West Bank of Jefferson Parish.  Churchill Park is located within the Fairfield area.
Perkins+Will, an award winning global architecture and design firm, developed the master plan for the site in four phases. Over the course of a year, JEDCO and Perkins+Will engaged in interviews with stakeholders, business leaders and elected officials; compiled a wealth of studies, reports, surveys, and other key relevant documents; and reviewed the most appropriate uses for this significant area of land. A great deal of focus was given to sustainable, progressive design that would incorporate innovative stormwater management features, and create a unique sense of place in Churchill Park through gathering spaces that could be programmed for community events.
The master plan offers several strategic design features that set Churchill Park apart from typical projects in Jefferson Parish and the Greater New Orleans area, including:
Shared, integrated stormwater management: The master plan calls for a series of green/blue streets and larger water features that allow for shared stormwater retention rather than a series of individual detention ponds.
Shared parking: The plan suggests shared parking among various developments rather than minimum parking requirements at each development site.
Density and complete streets: The plan, wherever possible, recommends parking in the rear of the development and the creation of complete streets, to encourage greater pedestrian use.
Focus on creating a heart of Fairfield: The plan goes beyond a typical business/corporate park and recognizes the importance of the inclusion of multi-family residential and mixed-use developments in addition to gathering spaces and community programming, creating a plaza and series of parks.
JEDCO and Perkins+Will envision the attraction of a variety of tenants to the site with uses ranging from flex and office space to commercial and residential offerings.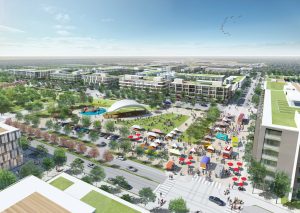 "The JEDCO team has been anticipating this day for some time," said JEDCO President & CEO Jerry Bologna. "Our team always knew Churchill Park had the potential to become a hub for business and innovation, not just on the West Bank but across Jefferson Parish and the Greater New Orleans area. With the completion of this aspirational master plan, we can now visualize exactly what the future holds and begin working toward the attraction of innovative businesses that align with our vision for Churchill Park and the surrounding area. We are grateful for the guidance of the Perkins+Will team as well as our key stakeholders and partners, who have graciously offered their insight and expertise to this immense project. We look forward to implementing the Churchill Park master plan and attracting the ideal tenants to the area."
"It has been an honor for our Perkins+Will team to collaborate with the Jefferson Parish Economic Development Commission and the community members of the Parish in preparing a vision, plan and implementation strategy for Churchill Park," said Stephen Coulston, Principal at Perkins+Will. "In supporting the recommendations and target industries from the Jefferson EDGE 2020 study, the mission of Churchill Park is to spark development in the greater Fairfield area by creating a unique identity that draws people and businesses to the site. This catalytic project will create a destination, community amenities and celebrate the unique and special natural environment through both preservation and integration of sustainable, resilient design principles.  Building on existing and future planned assets, Churchill will serve as a model of economic vitality and set the bar for future development in the area."
JEDCO will begin implementation of the master plan through several vital steps, which include the creation of a Strategic Business Plan, the development of a marketing plan, the revision of Covenants, Codes & Restrictions and working with the Jefferson Parish Planning Department to adopt this plan through the appropriate planning channels.
See the full master plan here.
ABOUT PERKINS + WILL: Perkins+Will is an interdisciplinary, research-based architecture and design firm established in 1935. Founded on the belief that design has the power to transform lives and enhance communities, we collaborate with clients all over the world to create healthy, sustainable places in which to live, learn, work, play, and heal. More than 2,000 professionals across over 20 Perkins+Will offices include some of the brightest minds in architecture, interior design, branded environments, urban design, and landscape architecture. Clients consistently turn to us for our leadership and expertise in areas like sustainability, resilience, health and wellness, and mobility. Additionally, our 10 Research Labs catalyze innovative design technologies and solutions that result in better, smarter, more competitive built environments. The recipient of hundreds of design awards each year, and a progressive leader in corporate social responsibility, Perkins+Will is consistently ranked among the world's top design firms. Our family of partner companies includes retail strategy and design consultancy Portland; sustainable transportation planning consultancy Nelson\Nygaard; healthcare technology planning firm Genesis Planning; and luxury hospitality design firm Pierre-Yves Rochon (PYR).