Poof Cotton Candy wins 2019 JEDCO Challenge
A gourmet cotton candy manufacturer took home the top prize at JEDCO's seventh annual startup pitch competition Tuesday evening. The Jefferson Parish Economic Development Commission is pleased to announce Poof Cotton Candy as the winner of the 2019 JEDCO Challenge powered by Greater Lakeside Corporation. Founder Jeanne O'Leary delivered the winning pitch.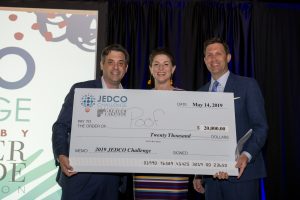 Poof Cotton Candy gives the classic confection the costume change it so desperately needed. The company's gourmet, hand crafted cotton candy flavors,  like King Cake, Cookies & Cream and Toasted Coconut , are dressed with sprinkles, edible glitters and other delicious morsels like crumbled cookies. Poof's single serving, 100-calorie pinwheels are perfect for wedding and party favors, client gifts, swag bag additions and an afternoon pick-me-up.
Manufactured in Jefferson Parish, Poof can be found in local businesses across the region, including the Smoothie King Center, Hilton New Orleans Riverside, Fleurty Girl, NOLA Discount Pharmacy, Evan's Creole Candy Factory and many more. The company has collaborated with multiple local restaurants, including Meril, Sucre and District Donuts.
"Thank you, JEDCO and those in attendance, for choosing Poof Cotton Candy as the 2019 JEDCO Challenge winner," O'Leary said. "The $20,000 in working capital and in-kind lagniappe will fuel the company's expansion to bring Poof to registers near you. This would not be possible without JEDCO and the Greater Lakeside Corporation. Thank you from the bottom of my heart."
"We are excited to elevate opportunities for all of our entrepreneurs through the JEDCO Challenge each year," said JEDCO President & CEO Jerry Bologna. "Poof is a vibrant food manufacturer with an excellent vision to create jobs and investment in Jefferson Parish. The winnings from the pitch event allow Poof to advance the company forward at an accelerated pace. Additionally, Poof's mission aligns directly with the Jefferson EDGE 2020, the Parish's long-term economic development stratetic plan. The growth and success of companies in the food and beverage industry remain a priority for JEDCO and Jefferson Parish."
"Through the JEDCO Challenge, our community has an opportunity to witness the ingenuity, innovation, and excellence displayed by a number of startups building their companies locally," Bologna added.  "The entrepreneurs showcased through our event this year represent the future of economic growth in Jefferson Parish. They are passionate, driven, and very creative. We commend each of them for their efforts in this competition and beyond. We look forward to continuing our support of their endeavors as they grow and thrive in our community."
The JEDCO Challenge powered by Greater Lakeside Corporation is a pitch competition developed to highlight entrepreneurs with ties to Jefferson Parish. Thirty-five companies applied to compete in Tuesday evening's live pitch event. Simone Spence of Don't Get Mad Get Paid, Rohan Walvekar of nDorse, Lydia Winkler and Marco Nelson of RentCheck, and Shani Christopher of Repurpose Food Co. joined Jeanne to compete for the Jefferson Parish prize package.
The entrepreneurs pitched to a packed house at the Gretna Cultural Center in historic downtown Gretna. The winner was partially chosen by a panel of Jefferson Parish business leaders: Jerry Bologna of JEDCO, Leigh Isaacson of Dig – The Dog Person's Dating App, Neel Sus of Susco Solutions, Erin Graham of Lakeside Shopping Center and Greg Dietz of Theo's Neighborhood Pizza. The judges scored the pitches on Jefferson Parish impact, innovation, potential for success, and pitch delivery. The entrepreneurs also received points based on a crowd vote.
Poof Cotton Candy won a prize package worth over $80,000 in cash and donated business services, including:
$20,000 in direct capital thanks to Greater Lakeside Corporation, Home Bank, Ochsner Health System, Daul Insurance, and Susco Solutions
25 hours of strategic and competitive intelligence work from Ardyn Thriffiley & Associates
Ad placement for two half-page ads to run in Biz New Orleans by the end of 2019
Legal services through Carver, Darden, Koretzky, Tessier, Finn, Blossman & Areaux's Intellectual Property Practice Group
Insurance consultation with Daul Insurance
One hour of presentation support with Bill Ganon of The Ganon Group
Accounting support from LaPorte CPAs and Business Advisors
Billboard package from Outfront Media
Marketing support from Touchpoints Marketing & Advertising
Membership with the Jefferson Chamber of Commerce
Recognition at the June 6th New Orleans Baby Cakes game
Interview on the new JEDCO podcast (coming soon)
Recognition at the 2019 JEDCO Annual Luncheon
The second place winner, RentCheck, won $7,500 in direct capital from the JEDCO Development Corporation, as well as an insurance consultation with Gillis Ellis & Baker and legal assistance through Carver, Darden, Koretzky, Tessier, Finn, Blossman & Areaux's Intellectual Property Practice Group, valued at over $5,000. All of the finalists received a free year of membership with the Jefferson Chamber of Commerce. Bill Ganon with The Ganon Group offered presentation training and support to all of the finalists in advance of the event.