NOLA Kidsground celebrates grand opening in Jefferson Parish
(Elmwood, La) – The Jefferson Parish Economic Development Commission (JEDCO), in partnership with the Jefferson Parish Council and Administration, celebrated the the grand opening of NOLA Kidsground in Elmwood Wednesday. It is the newest indoor play space in the Greater New Orleans area. JEDCO financed nearly 90% of this project.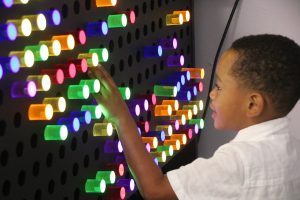 Founded by husband and wife team Charles and Uyen Yi, NOLA Kidsground serves as an alternative play space to outdoor venues, ensuring that parents and kids can beat the heat and avoid unpredictable weather all year round. The facility's main highlight is a beautiful wooden play structure designed specifically for children seven and under. Kids can also engage with the magnetic ball run, a large "light bright" wall, a toddler corner, and a STEM-focused play space, among many other options. While the kids play, parents have the option to supervise their children from a comfortable café serving up hand-crafted hot and iced espresso drinks and snacks.
JEDCO financed $170,800 of the $195,800 project through the JEDgrow Loan Program. NOLA Kidsground used the money for startup costs and working capital as well as to purchase new equipment and improve the facility. NOLA Kidsground employs six people with plans to expand its workforce as the business grows.
"Through the JEDgrow Loan Program, our aim is to provide opportunities for entrepreneurs to bring their business plans to life," said JEDCO President & CEO Jerry Bologna. "We are proud that our financing capabilities opened this door for the founders of NOLA Kidsground. Through JEDCO, this vibrant startup idea was able to become a reality and serve the needs of our young children and their families. Supporting businesses that nurture our youngest generation helps us to attract young and growing families into Jefferson Parish. We look forward to our continued partnership with NOLA Kidsground."
"We wanted to create a space that was fun for both kids and adults," NOLA Kidsground co-founder Charles Yi said. "We are so grateful to JEDCO for believing in us. Without their support, NOLA Kidsground would not exist."
Charles and Uyen are New Orleans natives. When launching the business, they made it a priority to support other small businesses in the area. Atelier Woodworks custom-built a counter for the café. The company also partners with La Louisiane Bakery and Vieux Carre Pizza to supply pastries and pizza to the facility.
"I am thrilled to welcome NOLA Kidsground to Jefferson Parish," said Jefferson Parish President Mike Yenni. "It is vitally important to the continued growth of our region that we offer families and their young children safe spaces to play, learn, grow and discover. We are proud to support NOLA Kidsground as they grow and thrive in Jefferson Parish."
"This facility is an excellent addition to the Elmwood area," added District 2 Councilman Paul Johnston. "We know NOLA Kidsground will be very happy in this part of Jefferson Parish, which offers ease of accessibility and many amenities for families with children."
NOLA Kidsground is open seven days a week. Visit the NOLA Kidsground website for more information.
ABOUT NOLA KIDSGROUND
NOLA Kidsground in an indoor play space featuring a beautiful, sustainable wood playground structure on which kids, ages 7 and under, can run, slide, climb and allow their imaginations to soar. Children will find even more hands-on fun with a magnetic ball run and oversized "light bright."  The youngest explorers (crawlers and beginning walkers) will find fun in a dedicated toddler room featuring soft play toys and a relaxing reading nook. NOLA Kidsground features a comfortable sit-down area with a great selection of gourmet beverages and La Louisiane Bakery pastries. Founders Charles and Uyen Yi hope NOLA Kidsground will become the go-to place for fun, relaxation and discovery through play.
ABOUT JEDCO
The Jefferson Parish Economic Development Commission (JEDCO) is the economic development organization for the parish with the main objective of attracting, growing, and creating new business in the area. JEDCO's mission is to proactively influence the economy through the retention and creation of quality jobs, entrepreneurship, and investment in Jefferson Parish. Located in the growing Churchill Technology & Business Park, JEDCO is home to a business incubator for early-stage ventures and it also operates a state-of-the-art Conference Center. For more information, visit www.jedco.org and follow us on Facebook, Twitter, Vimeo, and LinkedIn.