JEDCO, City of Gretna celebrate grand opening of veteran-owned self-serve wine house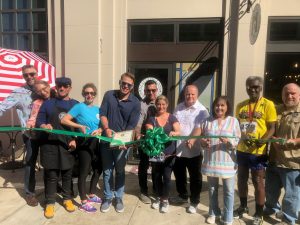 (GRETNA, La) – The Jefferson Parish Economic Development Commission (JEDCO) and the City of Gretna celebrated the grand opening of a new self-serve wine bar in historic downtown Gretna on Saturday. Stained Glass Wine House is the first of its kind in Jefferson Parish, contributing to the business growth and new investment on the West Bank. The opening of this veteran-owned, woman-owned business marks a $150,0,00 investment into Jefferson Parish.
Developed by four friends who serve in the Air Force together, Stained Glass Wine House functions to further historic downtown Gretna's image as a destination for visitors and locals alike. Located on the MRT run/bike trail and ideally situated near a number of businesses and restaurants, Stained Glass Wine House attracts a wide array of customers seeking a unique gathering space and social experience. The company tagline, "upscale, but not pretentious," serves to highlight the vision the founders' had for this business: a vibrant, playful, community-focused, customer-centric place that adds to the overall cool factor in the area.
Stained Glass Wine House is the first in Louisiana to utilize the Enomatic Unica series, a special digital system with touch screens, LED lighting, and product info. Only two wine bars in the country use the Enomatic Unica series. The tech system is tied to a cashless app that minimizes person-to-person contact and allows customers to set their own limits for spending. Showcasing wines and spirits from around the world, Stained Glass Wine House offers 300+ bottles of wine and 24 self-serve wine taps, 8 taps for high end spirits, and 8 taps for local beer and handcrafted cocktails.
The business prominently features artwork from local artists throughout the space, including pieces from renowned pop artist Josh Wingerter, who recently opened an art studio in neighboring Westwego.
"When we came up with the idea to open Stained Glass Wine House, Tasha, one of our co-founders, was adamant that this idea ONLY works in Old Gretna and from the support of the neighborhood, business community and City Government. She was totally correct," said Kyle Gregore, co-founder of Stained Glass Wine House. "Our vision for Stained Glass Wine House is not only to create the premier establishment in the New Orleans Metro Area, but more importantly to help change the perception of the West Bank and continue to grow the burgeoning community of Gretna. We are so excited about Stained Glass Wine House because this type of model at this scope has never been seen in this area; we are creating a fusion of art, community and wine that has never been seen before. As proprietors of this business we feel that this is the future of business and that we are on the forefront of the change."
"We are very excited to have Stained Glass Wine House make its corporate debut in the City of Gretna," said Gretna Mayor Belinda Constant. "They will soon become a major asset to the fabric of our downtown community. With aspirations to continue expanding to other locations, we are truly proud to introduce them to the metropolitan area."
The Stained Glass Wine House founders connected with JEDCO early in their planning process for the new business. JEDCO provided tax incentive guidance on the Enterprise Zone program and offered support in connecting the Stained Glass Wine House team to elected officials, local business organizations, and possible vendors. Stained Glass Wine House plans to expand this model throughout the region and they're working with JEDCO on a possible loan for location number two.
"JEDCO is proud to support this emerging concept, which adds to the energetic sense of place in Jefferson Parish," said JEDCO President and CEO Jerry Bologna. "Through the Jefferson EDGE 2025, the long-term economic development strategic plan for Jefferson Parish, we increased our focus on building up businesses that support our efforts to celebrate the culture and quality of life in our community. Stained Glass Wine House is a tremendous example of the unique, exciting businesses that choose to call Jefferson Parish home. We commend the founders for their vision and we look forward to a long-term partnership with Stained Glass Wine House as it continues to expand in our community."
The grand opening was held in conjunction with the first-ever Stained Glass 5K Wine Run 4 Cause. Over 115 runners participated in the event. Stained Glass Wine House raised $7,000 from the run for Louisiana Air Guard members who were impacted by Hurricane Ida.
Stained Glass Wine House is located at 201 Huey P. Long Avenue, Suite A, in Gretna. It is open Wednesday-Thursday from 4pm-9pm, Friday from 4pm-11pm, and Saturday from noon-11pm.