JEDCO CELEBRATES GRAND OPENING OF US FOODS' EXPANDED DISTRIBUTION FACILITY IN JEFFERSON PARISH
JEDCO supported state-of-the-art expansion with infrastructure improvements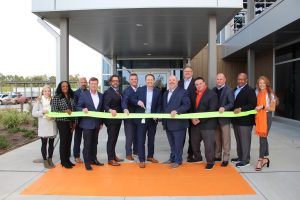 (MARRERO, La) — The Jefferson Parish Economic Development Commission (JEDCO), in partnership with Jefferson Parish and Louisiana Economic Development, celebrated the grand opening of a state-of-the-art distribution center for one of the nation's leading foodservice distributors Wednesday. US Foods joined company leaders, economic development officials, and members of the community to cut the ribbon on the facility, which houses a full-service demonstration kitchen, training center to support culinary innovation, and an interactive technology center where US Foods customers can learn about the company's industry-leading, web-based business solutions. US Foods' investment nearly tripled the size of the facility.
US Foods acquired Marrero-based F. Christiana in 2017 and began construction on the distribution center expansion in 2019. US Foods explored a wide variety of markets for the investment, with Jefferson Parish ultimately selected. The expansion further strengthens the company's presence in Greater New Orleans and creates additional distribution opportunities across Louisiana and Mississippi.
Headquartered in Rosemont, Illinois, US Foods is one of the largest foodservice distributors in the United States, serving approximately 250,000 restaurants and foodservice operators. The company retained 140 jobs currently in place and will create an additional 45 new direct jobs.
"This is an important milestone for our growing Louisiana team as we continue to partner with local foodservice operators who support our vibrant and thriving New Orleans community," said Dan Hildreth, US Foods market vice president. "We value our role in helping our local restaurants 'Make It' with our differentiated and expanded resources and services and look forward to serving additional markets with our growing service footprint."
JEDCO, along with Jefferson Parish and Louisiana Economic Development, first began discussions with US Foods on its expansion in October 2017. JEDCO played a substantial role in the retention and expansion of the company in Jefferson Parish. The economic development organization was instrumental in identifying funds for the needed infrastructure to improve the site and surrounding area and providing creative solutions to support and capture the company's significant investment. JEDCO acted as the coordinating agency throughout the project, bringing key players and entities to the table during discussions to support the needs of US Foods. Additionally, the State of Louisiana offered the company a competitive incentive package that includes the services of LED FastStart® – the nation's No. 1 state workforce development program.
"This is an exciting economic development win for JEDCO and Jefferson Parish," said JEDCO President & CEO Jerry Bologna. "Business retention and expansion have long been a key component of our economic development strategy. When a nationally recognized business of US Foods' caliber chooses to expand in Jefferson Parish, it lends credibility to our efforts and promotes our community as a destination for global business. We commend US Foods for creating jobs, investment, and opportunities in Jefferson Parish and across the region."
"The expansion of US Food solidifies Jefferson Parish and Greater New Orleans as a prime location for a business and a hub for food manufacturers," said Michael Hecht, President and CEO of Greater New Orleans, Inc. "We are grateful for the work of JEDCO and the State to support US Foods, and to help nourish the regional economy."
The Jefferson Parish Council & administration played a large role in the success of this project, securing funds to support infrastructure improvements on the site.
"It is an honor to celebrate the grand opening of the US Foods expansion in Jefferson Parish," said Jefferson Parish President Cynthia Lee Sheng. "We are proud that one of the largest food distributors in the nation continues to expand from right here in Jefferson Parish. US Foods adds to the long list of national and international food brands that choose to call Jefferson Parish home. We are grateful for their investment and look forward to a long relationship with the business."
"The Parish Council is proud to have provided significant funding for infrastructure improvements around the US Foods site, making the entire area more development-ready," added District 2 Councilman Deano Bonano. "This long-term investment by US Foods and the Parish Council will help us retain, expand, and attract new business into the area, providing an additional economic boost to the West Bank of Jefferson Parish."
In keeping with the company's commitment to reducing the environmental footprint of its operations, the facility expansion is designed to meet rigorous Silver Leadership in Energy and Environmental Design (LEED) certification sustainability requirements. Energy and environmental improvements include energy-efficient refrigeration systems, energy-saving LED lighting, optimized HVAC systems, and water-efficient landscaping.