JEDCO celebrates grand opening of first Bambū franchise location in Louisiana
Project financed through JEDCO's loan program
(METAIRIE, La) – The Jefferson Parish Economic Development Commission (JEDCO), alongside local leaders and community members, celebrated the grand opening of Bambū Metairie on Friday. The ribbon cutting marks the official entrance of the international Vietnamese dessert drink franchise into Louisiana. JEDCO financed the project using the JEDCO Growth (JEDgrow) Loan Program.
Founded in 2008 in San Jose, California by four sisters, Bambū has grown into an international franchise with over 65 locations in 27 states, Canada, and the Philippines. The company creates authentic Vietnamese coffees and Chè, a homemade Vietnamese dessert, as well as Asian-inspired smoothies, teas, and yogurt parfaits. Bambū's core dessert drinks are made to order in a full-service, commercial kitchen, using fresh cut and drained coconut water or house prepared coconut milk, combined with a unique selection of fresh, healthy, and delicious ingredients.
Pauline Ngo and Duyan Nguyen, a local husband and wife team, opened Bambū Metairie with support from JEDCO earlier this year. When they visited a Bambū shoppe in a neighboring state, they knew there was a market for the franchise in Louisiana. The duo are long-time Jefferson Parish residents with a history of small business ownership in the area. This is the first franchise location they've owned. The business currently employs 8 people.
"Ever since our families immigrated to Louisiana in the 1970s, the Vietnamese community has had a strong footprint in the New Orleans metro areas," said Duyan Nguyen, co-founder of Bambū Metairie. "My wife, Pauline, and I are honored to be a part of this legacy by opening the first authentic Vietnamese Chè dessert shoppe in New Orleans. It has been a privilege to work with JEDCO, to have the love and support from the local neighbors and establishments, and to be able to meet many great new friends during this journey. We hope we can continue to be the #1 dessert place for you to bring your family and friends to relax and to enjoy authentic Chè."
JEDCO financed 50% of the $300,000 project. Through the JEDgrow program, Pauline and Duyan transformed a former mattress store into a trendy dessert drink café, featuring an extensive menu, ample seating, and a communal space for local gatherings and events. The loan provided capital to fund the full renovation and build out of the space. JEDCO's loan programs were designed to make financing options more flexible and accessible to businesses of all sizes. Specifically, the JEDgrow Loan Program provides funding to Jefferson Parish-based startups or small businesses. JEDgrow is one of several innovative loan programs that JEDCO uses to enhance the economic climate in Jefferson Parish.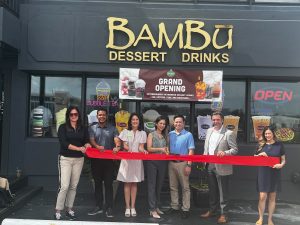 "JEDCO is proud to support the grand opening of Bambū Metairie," said JEDCO President and CEO Jerry Bologna. "JEDCO's loan programs were designed to cultivate opportunities for small business owners like Duyan and Pauline, who have the vision and drive to promote their passion. They are emblematic of so many small business owners who were able to achieve their dreams of business ownership as a result of JEDCO's small business lending capacity.  We are grateful for their investment and creation of new jobs in Jefferson Parish."
"We are thrilled to welcome Bambū to Jefferson Parish," said Jefferson Parish President Cynthia Lee Sheng. "Through the opening of this new business, we celebrate not only the first Bambū franchise location in Louisiana, but also the cultures and communities that have helped shape Jefferson Parish's diverse business landscape. We look forward to becoming a long-term partner and resource for Bambū Metairie in the future."
"The addition of this vibrant international franchise to the Veterans corridor is a fantastic win for Metairie, Jefferson Parish, and Louisiana," said District 5 Councilwoman Jennifer Van Vrancken.  "Small businesses are at the heart of the Jefferson Parish economy. I commend Pauline and Duyan for their entrepreneurial spirit and vision in bringing the first shoppe of its kind to the state. We are truly excited to support Bambū Metairie and look forward to their success."
The grand opening included both a ribbon cutting and traditional Dragon Dance to commemorate the occasion. Bambū Metairie is located at 4401 Veterans Memorial Boulevard, Suite #101, in Metairie. The business is open Monday through Friday 12pm-8pm, Saturdays from 11am-8pm, and Sundays from 11am-7pm. Learn more at www.drinkBambū.com/properties/metairie.
ABOUT BAMBŪ
Bambū is an international franchise that delivers authentic Vietnamese Chè and coffees as well as incredible Asian inspired smoothies, teas, and yogurt parfaits. Today there are 65+ Bambū locations in the United States, Canada, and the Philippines, having become a destination for families, friends, and associates to enjoy Vietnamese-inspired dessert drinks. All drinks are vegetarian with vegan option, made-to-order and served "just the way you love it." Learn more at www.drinkBambū.com.