PIGÉON CATERING & EVENTS UNVEILS GRAND HEADQUARTERS IN OLD JEFFERSON
(Jefferson Parish, La) — JEDCO joined local councilmembers and Jefferson Parish partners to celebrate the grand opening of a renowned local catering and events company on Tuesday. Pigéon Catering & Events opened their consolidated headquarters in Old Jefferson. The festivities marked the culmination of an estimated $6 million renovation effort has transformed a 55,000-square-foot former vodka distillery into the company's new hub. The new facility located at 803 Jefferson Highway is home to Pigéon Catering, Carnival Culinary Solutions, and the brand new Le Provisions gourmet market.
A Local Favorite Expands for a Bigger and Better Culinary Experience
This strategic move allows owners Jean-Pierre "JP" Pigéon and Dean Pigéon to streamline their operations, merging three existing locations – Mid-City, Uptown, and a rented cold storage in St. Rose – into one expansive Jefferson Parish facility. It is centrally located near the Jefferson-Orleans line and offers plenty of free parking.
"We are very excited to have all our business divisions under one roof! It has been a dream of ours since we started in our small Kenner location over 30 years ago," stated JP Pigéon. "Our father, Pete Pigéon, was a small businessman in the hospitality industry and this would make him so proud to see our progress."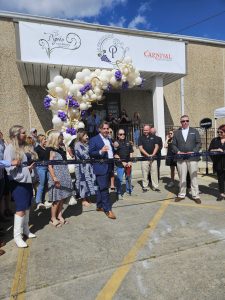 Founded in a trailer in Kenner in 1991, Pigéon Catering & Events has blossomed far beyond its modest origins, now providing an extensive array of services. These include full-service event catering, pick-up and delivery for self-catering, holiday meal packages, Le Provisions, food and beverage management division which includes the school nutrition programs, as well as food manufacturing.
"Jefferson is proud to welcome Pigéon Catering to our Parish. Being able to consolidate all three of their separate locations into one home in old Jefferson is a big win for all involved. It provides a big boost to our economy and new job opportunities. This is a prime example of what government and business can do when we work together on creative solutions." Deano Bonano, Jefferson Parish Councilman.
"We are thrilled to welcome Pigéon Catering to Jefferson Parish. The opening of this new headquarters further anchors Jefferson as a destination for the robust Culinary Products industry. Through the Jefferson EDGE 2025, Jefferson Parish's long-term economic development strategic plan, JEDCO identified our food and beverage cluster as an area of extreme potential and impact. This announcement directly aligns with JEDCO's activities to enhance and sustain this targeted sector in our community. Our team is proud to support Pigéon Catering as they consolidate operations here in Jefferson Parish," added Jerry Bologna, JEDCO President and CEO.
About the New Gourmet Market
Le Provisions, the new gourmet market situated at the public entrance of the facility, is now officially open to the public. This market is your ultimate destination for all your self-catering requirements, boasting a diverse array of offerings, from fine wines to delectable charcuterie and more.
"When we found the building on Jefferson Hwy, we thought about having a front store area, so we said let's do a specialty market with everything you need to throw a party." said Dean Pigéon. "Now standing here today, all of that has all come to fruition. We are selling our homemade soups, sauces, muffulettas, crab cakes, sausages, cheeses, and all disposable items you need for an event. We also offer over 200 moderately priced wines, full liquor and liquor supplies. You want to create your own charcuterie boards – we have it all."
Carnival Culinary Solutions Division Relocation Plans
Construction continues in the back of the facility for the future move of Pigéon's manufacturing company, Carnival Culinary Solutions. This company will continue to operate at the New Orleans facility located at 5900 Front Street until the move to the new facility later this year.
About Pigéon Catering & Events
Pigéon Catering & Events is a dynamic catering and event planning company offering a wide range of culinary services. Locally owned by brothers JP Pigéon and Dean Pigéon, this family company is committed to delivering exceptional food and unforgettable experiences. Their dedication to quality, innovation, and community support has made them a trusted name in the industry. Learn more at Pigéoncaterers.com.