JEDCO CAREERS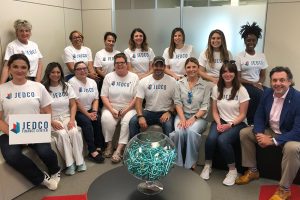 JEDCO is an award-winning, internationally accredited economic development organization with a historic track record of creating new jobs, investment, and opportunity in Jefferson Parish. We attract new business into the community, support the businesses already here, and take an innovative approach to making Jefferson Parish a global destination for business. All of this is important to Jefferson Parish's quality of life and wealth.
JEDCO offers a wide variety of services and support to businesses of all shapes and sizes. Connection and communication are at the very heart of our work. If you love meeting new people, making valuable connections, and serving the community, you could be a great fit for our team!
CORE VALUES
INTERGRITY: We pride ourselves in demonstrating integrity in all that we do with respect and responsibility. By following up and following thru, we generate trust within our business community.
DYNAMIC: JEDCO is adaptable and progressive. We consistently seek opportunities to deliver creative, innovative solutions to serve the needs of the Jefferson Parish business community.
COLLABORATIVE: JEDCO works to enrich and empower our community through collaborating with key partners and connecting businesses with resources to prosper Jefferson Parish.
SERVICE: We are funded by the community and serve the community equitably, inclusively, and with dedication to empower all Jefferson Parish companies.
JOIN OUR TEAM
For 35 years, JEDCO has played a key role in the economic vitality of our community. We're always looking for dynamic, innovative people to join our team. There are currently no open positions at JEDCO.
TESTIMONIALS

"I feel that to be great at what you do is to love what you do. I am lucky and honored to be a part of JEDCO's family."
Margo Ruiz, Economic Information and Incentives Coordinator, 30 years at JEDCO
"I have been at JEDCO for 5+ years and have truly loved every minute of the experience. Top reasons I love working at JEDCO are the ability to make a difference by creating new jobs in Jefferson, to help people realize their visions to launch new businesses, and to get to work with other like-minded JEDCO team members who love these same economic wins. I also love that each day brings an unknown opportunity or challenge that is fun to face, especially using the team dynamic when called for. "
Kate Wendel, Director of Economic and Workforce Development, 7 years at JEDCO
"In the time that I've been here, the organization has provided me with tremendous opportunity to advance in my role and get creative with our strategic approach to marketing and public relations. I feel supported and empowered to try new ways to work regularly which means that every day offers something new and unique. The flexibility and benefits are awesome and really helpful to ensure positive work-life balance. Better yet, the work that we all do here at JEDCO has a direct impact on the community in which I live. It means so much to serve Jefferson Parish and Jefferson Parish businesses every single day."
Kelsey Scram, JEDCO Director of Marketing and Communications, 13 years at JEDCO