Greater Lakeside Corporation to be 2018 JEDCO Challenge title sponsor
The Jefferson Parish Economic Development Commission (JEDCO) is pleased to announce a new collaboration to enhance the sixth annual JEDCO Challenge, a pitch competition for startup companies with ties to Jefferson Parish. Greater Lakeside Corporation and its subsidiaries, which operate the Lakeside Shopping Center, signed on as the presenting sponsor of the competition. The company will offer $12,500 toward the overall JEDCO Challenge prize package.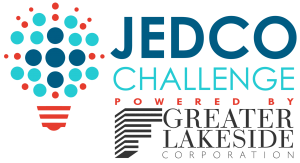 Launched in 2013, the JEDCO Challenge has become a premier business event for Jefferson Parish. Annually, JEDCO chooses a number of startup companies to compete for a chance to win $20,000 in direct capital and additional in-kind services to support their business growth. A panel of business leaders score the early-stage ventures on a seven-minute business pitch and a condensed business plan.
Jeffrey Feil, President & CEO of The Feil Organization, heads up Greater Lakeside Corporation and its subsidiaries. The Feil Organization is a family-owned real estate business with roots in New Orleans dating back nearly six decades. The company owns and manages a real estate portfolio with holdings in the Greater New Orleans Area, which has grown 69 % over the past 13 years to include over 31 properties and 6.1 million square feet. Notable holdings include Lakeside Shopping Center, The Galleria, Carrollton Shopping Center and the Lakeway Center office complex. Other holdings include a diverse mix of office, retail, residential, and industrial properties. The Feil Organization has a regional office in Metairie, employing over 100 people. The office also manages real estate holdings in Chicago and Baton Rouge.
"We are honored to be working with The Feil Organization and Greater Lakeside Corporation to elevate opportunities for our local entrepreneurs," said Jerry Bologna, JEDCO President & CEO. "The Feil Organization is respected in Jefferson Parish and around the country, and has been a longtime supporter of JEDCO's efforts to enhance the economic viability of the region. The company's industrial, commercial and retail holdings make this an ideal partnership, creating additional value for both JEDCO and the entrepreneurs participating in the competition this year."
"This is an exciting partnership for Greater Lakeside Corporation," Feil said. "The Feil Organization makes it a priority to positively impact and support the communities in which we do business. Entrepreneurs and startup companies play an important role in community growth and expansion. Through the JEDCO Challenge, we have an opportunity to develop new relationships with the entrepreneurial community and support innovation, which creates progress and sustainability. We are proud to help build the future of Jefferson Parish."
JEDCO seeks entrepreneurs with unique ideas that have the high potential to grow and positively impact Jefferson Parish. Entrepreneurs are urged to apply for the challenge on JEDCO's website. They must meet the following criteria to be eligible:
Must live, work or have a strong presence in Jefferson Parish
Must generate less than $500,000 in revenue
Must have fewer than 5 employees
Must be a for-profit company
Must not have been a Top Five finalist in previous JEDCO Challenge competitions
The deadline to apply is Monday, March 26, 2018.  Applicants will be narrowed down through a rigorous review process.  Chosen startups will participate in the JEDCO Challenge on May 15, 2018.