US Foods breaks ground on expanded F. Christiana facility in Jefferson Parish
(MARRERO, LA)  – The Jefferson Parish Economic Development Commission (JEDCO), in partnership with Jefferson Parish and Louisiana Economic Development, celebrated the groundbreaking of a state-of-the-art distribution facility for one of the nation's leading foodservice distributors Thursday. US Foods broke ground on the expansion of the company's Christiana facility in Marrero alongside company leaders, government officials and other members of the community. The investment will nearly triple the size of the current facility to support the company's continued growth in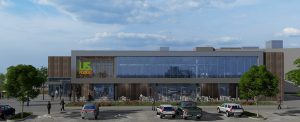 Louisiana, parts of Mississippi and Alabama. The expansion will increase the facility size from 70,000 square feet to 200,000 square feet and is expected to be fully operational by late 2020.
The expansion will support ongoing efforts to offer additional products and services to restaurant and foodservice operators in the region and will create supplementary distribution opportunities across key markets. Highlights of the updated facility include a state-of-the art kitchen and training center for customer product demonstrations and recipe innovation and an interactive technology center where US Foods customers can learn about the company's industry-leading, web-based business solutions. US Foods explored a wide variety of markets for the investment, with Jefferson Parish ultimately selected.
F. Christiana was acquired by US Foods in June 2017. Headquartered in Rosemont, Illinois, US Foods is one of the largest foodservice distributors in the United States, serving approximately 250,000 restaurants and foodservice operators. The company will retain 140 jobs currently in place and create an additional 45 new direct jobs, with an average annual salary of $46,000, plus benefits. Louisiana Economic Development (LED) estimates the project will result in an additional 38 new indirect jobs, for a total of 83 new jobs.
"This is an important day for US Foods as we take the next step to expand our footprint in Louisiana and reaffirm our commitment to our customers and the community," said Keith Knight, south region president for US Foods. "We would like to thank Louisiana Economic Development, Jefferson Parish and JEDCO for their ongoing support through the many phases of this important investment."
JEDCO, along with Jefferson Parish and Louisiana Economic Development, first began discussions with US Foods on its expansion in October 2017. JEDCO played a substantial role in the retention and expansion of the company in Jefferson Parish. The economic development organization was instrumental in identifying funds for the needed infrastructure to improve the site and surrounding area and providing creative solutions to support and capture the company's significant investment. JEDCO acted as the coordinating agency throughout the project, bringing key players and entities to the table during discussions to support the needs of US Foods.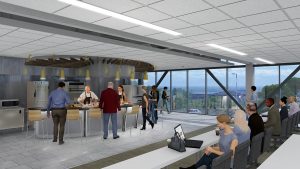 Additionally, the State of Louisiana offered the company a competitive incentive package that includes the services of LED FastStart® – the nation's No. 1 state workforce development program. JEDCO also worked with the state to develop an incentives package for infrastructure upgrades to the site.
"The JEDCO team is proud of this major economic development win for JEDCO and Jefferson Parish," said JEDCO President & CEO Jerry Bologna. "Business retention and expansion have long been a key component of our economic development strategy. When a nationally-recognized company, like US Foods, chooses to expand in Jefferson Parish, it lends credibility to our efforts and reminds us of what all of our hard work is all about: creating jobs and investment in our community. We look forward to a long-term partnership with US Foods as they expand their vision across the region."
The Jefferson Parish Council & administration played a large role in the success of this project, securing funds to support infrastructure improvements on the site.
"It is an honor to celebrate the groundbreaking of the US Foods expansion in Jefferson Parish," said Jefferson Parish President Mike Yenni. "Companies choose Jefferson Parish because of our business-friendly climate, our ease of accessibility and our excellent workforce. We are welcoming one of the largest food distributors in the nation into our community, adding to the list of numerous national and international brands that choose to call Jefferson Parish home. This announcement is further proof that Jefferson Parish has become a preferred destination for business. We look forward to a long relationship with US Foods."
"The Parish Council is proud to provide funding for infrastructure improvements around the US Foods site, making the entire area more development-ready," added District 2 Councilman Paul Johnston. "The investment into the area will help us attract additional prospective businesses, providing an additional economic boost to the West Bank of Jefferson Parish."
The US Foods facility is designed to meet rigorous LEED Silver certification requirements and will incorporate energy and environmental improvements, such as energy efficient refrigeration systems, energy saving LED lighting, optimized HVAC systems and water-efficient landscaping. The company has also committed to using recycled content furnishings and building materials, implementing waste segregation, and recycling waste generated during demolition and construction.
"From its roots as an egg packer during the Great Depression, F. Christiana grew into one of the most admired brands in New Orleans and one of the leading food distributors in the Gulf South and the nation," Gov. Edwards said. "The company's acquisition by US Foods has created extraordinary new opportunities for F. Christiana's employees and customers. In making this major commitment to growth, US Foods recognized the value of F. Christiana, the strength of Louisiana's business climate, and the dedication and skill of the outstanding workforce in Marrero and Jefferson Parish. This is an investment that will bring great value to US Foods in Louisiana and far beyond our state's borders."
About US Foods: US Foods is one of America's great food companies and a leading foodservice distributor, partnering with approximately 250,000 restaurants and foodservice operators to help their businesses succeed. With 25,000 employees and more than 60 locations, US Foods provides its customers with a broad and innovative food offering and a comprehensive suite of e-commerce, technology and business solutions. US Foods is headquartered in Rosemont, Ill. and generates approximately $24 billion in annual revenue. Visit usfoods.com to learn more.