Envisioning the Future
JEDCO and Jefferson Parish leaders understand the importance of having a shared vision for the future. The Jefferson EDGE is the community's long-term strategic plan to enhance economic vitality and quality of life.
Since it's inception in 2001, the Jefferson EDGE has played a vital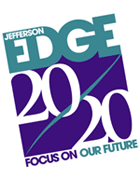 role in exacting change and moving the community forward. From developing the Churchill Technology and Business Park to driving beautification projects and hurricane protection improvements, the Jefferson EDGE has made a vast and lasting impact on Jefferson Parish.
The following summary states the primary observations, thoughts and objectives recorded at a forum sponsored by JEDCO on June 7, 2007 to address these issues. The discussion of panel focused on three priority areas: leadership, quality of life, and economic development.
Community and Political Leadership
Objective: Encourage parish and business leaders to seize the opportunity to assume a greater leadership role in regional issues – particularly those directly affecting Jefferson Parish.
Focus legislative and congressional initiatives on the pursuit of funding to improve community infrastructure, facilities, and services
Encourage leadership initiatives from the business community and regional planning and economic development agencies
Strive for more effective government at local, regional and state levels
Quality of Life Issues
Objective: Identify programs that recognize the problems affecting the quality of life in the parish and implement a high profile program to address the most immediate issues.
Address the major issues perceived as diminishing the quality of life in Jefferson Parish
Commit to and focus on improving communities and neighborhoods throughout the Parish
Initiate an aggressive public outreach program to promote the advantages and benefits of living and doing business in Jefferson Parish.
Economic Development Initiatives
Objective: Focus on the retention of residents and businesses in the parish and region as a way of stabilizing the area.
Maximize the opportunities associated with the transportation infrastructure and natural resources of Jefferson Parish
Establish a development authority to address the redevelopment of blighted and underutilized properties.
Assume an advocacy position to promote a higher level of business interest and investment in Jefferson Parish.
In an effort to stabilize the population of the Parish and improve the quality of life for its businesses and residents, the foregoing initiatives are thought to be of critical importance in short term. The primary directives in each of the three major initiatives (political leadership, quality of life, and economic development) will send a strong and positive message to the residents and businesses of Jefferson Parish. This is what is needed to address and reverse the ominous trends observed in recent years.