JEDCO understands the importance of having a shared vision for the future. Through the Jefferson EDGE, we ensure a vast and lasting impact on Jefferson Parish.
The Jefferson EDGE 2020 is the long-term economic development strategic plan to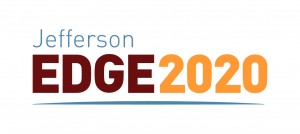 promote sustainability, job growth and investment in Jefferson Parish. Over the course of its 16-year history, The EDGE has served as a road map for our community's development. Through the proactive efforts of our stakeholders, JEDCO and elected officials, The EDGE has delivered game-changing initiatives such as the development of the 500-acre Churchill Technology & Business Park and quality of life improvements related to the beautification of major corridors, education and Fat City redevelopment. 
Through the EDGE 2020, JEDCO and stakeholders identified five industry clusters with the greatest opportunity for growth in Jefferson Parish: Food, Beverage, Fishing, and Seafood; Water Transportation, Distribution and Logistics; Health Care; IT Systems and Products; and Water, Coastal and Environmental Industries. JEDCO will focus its limited resources on supporting these five industry clusters.
JEDCO also identified five cross-cutting issues that impact all businesses in Jefferson Parish: Permitting; Building Stock; Workforce Development and Mobility; Churchill Park and Fairfield; and Marketing and Market Expansion.
View the new Jefferson EDGE Update here >> The Jefferson EDGE 2020 Strategic Plan 
View the April 2016 Jefferson EDGE Progress Report here>> Jefferson EDGE 2020 Implementation Report April 2016
EDGE Baseline Assessment: 2000-2015