JEDCO understands the importance of having a shared vision for the future. Through the Jefferson EDGE, we ensure a vast and lasting impact on Jefferson Parish.
The Jefferson EDGE 2020 is the long-term economic development strategic plan to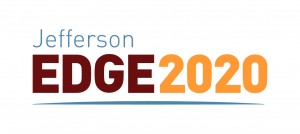 promote sustainability, job growth and investment in Jefferson Parish. Over the course of its 15-year history, The EDGE has served as a road map for our community's development. Through the proactive efforts of our stakeholders, JEDCO and elected officials, The EDGE has delivered game-changing initiatives such as the development of the 500-acre Churchill Technology & Business Park and quality of life improvements related to the beautification of major corridors, education and Fat City redevelopment.  While the objectives of the current EDGE are largely fulfilled, the results of this plan are tangible and ongoing.
In order to stay relevant in a consistently changing economic climate, we must once again work together to shape the future of Jefferson Parish. JEDCO began spearheading a new strategic planning process to arrive at an updated, refocused Jefferson EDGE with a five-year scope addressing the parish's most current impediments to growth as well as economic growth opportunities.
JEDCO retained GCR, Inc. to prepare the initial framework for the plan, facilitate the planning process and craft the ultimate strategy.   JEDCO based its first round of stakeholder discussions regarding industry priorities around the baseline assessment. The below document contains an overview of economic and demographic data, a cluster analysis of Jefferson Parish, a review of the regional Comprehensive Economic Development Strategy (CEDS), and an updated status of the EDGE's economic development action items from the 2012 plan. 
View the new Jefferson EDGE Update here >> Jefferson EDGE 2020 – 2015 Update 
View the April 2016 Jefferson EDGE Progress Report here>> Jefferson EDGE 2020 Implementation Report April 2016
EDGE 2020 Update – Baseline Assessment