We're changing the face of Louisiana. Churchill Technology & Business Park will be home to some of the country's finest technology companies.
The Challenge provides local entrepreneurs with a platform in Jefferson Parish to showcase their early-stage ventures.
Latest News
March 13, 2015
JEDCO showcases the members of the 2015 JEDCO Board of Commissioners. Read more »
March 3, 2015
The countdown is underway to the JEDCO Challenge, a pitch competition for entrepreneurs with ties to Jefferson Parish. The third annual event, powered by First NBC Bank and in partnership with the Jefferson Chamber, will feature five incredible startup companies … Read more »
February 27, 2015
JEDCO helped welcome Spectrum Neurology to Jefferson Parish. Read more »
February 19, 2015
Join JEDCO and the Jefferson Chamber for a seminar focused on improving presentation and communication skills. Read more »
January 28, 2015
JEDCO is thrilled to announce the 2015 JEDCO Challenge finalists. These entrepreneurs will compete in JEDCO's live pitch competition during New Orleans Entrepreneur Week in March. Read more »
Focus On


Connections
JEDCO Brochure
There's never been a better time than now to build a business in Jefferson Parish.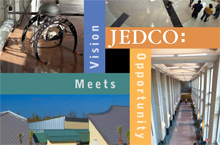 Check out JEDCO's online brochure »
Download the PDF version »
Focus On


People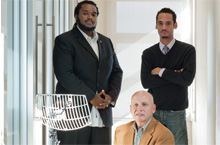 "We're excited to be a part of the JEDCO Business Innovation Center. JEDCO offers us the ability to grow and thrive by providing critical operational resources and contacts throughout the Gulf South. We're just getting started, but the sky's the limit."
Charles Easterling, CEO,
Crescent Unmanned Systems