We're changing the face of Louisiana. Churchill Technology & Business Park will be home to some of the country's finest technology companies.
The Challenge provides local entrepreneurs with a platform in Jefferson Parish to showcase their early-stage ventures.
Latest News
April 13, 2016
Join JEDCO & the Jefferson Chamber of Commerce for another installment of the Prosper Jefferson seminar series as three experts share tips to define your brand and share your story. Read more »
April 12, 2016
(AVONDALE, La) –The Jefferson Parish Economic Development Commission (JEDCO) is pleased to welcome several new faces to its Board of Commissioners in 2016. Over the last several months, JEDCO has received five new appointments to the Board. Chaired by long-time … Read more »
March 14, 2016
FreshCane, which makes sugar cane water using local product, won the fourth annual JEDCO Challenge powered by First NBC Bank. Read more »
February 25, 2016
JEDCO sought out five business leaders with expertise in entrepreneurship to determine the winner of the 2016 JEDCO Challenge. Read more »
February 18, 2016
JEDCO, Ochsner Health System, and Urban Land Institute – Louisiana gathered a Technical Assistance Panel of experts from across the country to study the best possible use for the Jefferson Highway corridor. The panel developed a plan that meets the needs of Ochsner employees, patients, business owners, and residents. Read more »
Focus On


Service
2014 JEDCO Annual Report
The success of Jefferson Parish businesses remains the primary focus of JEDCO's economic development efforts.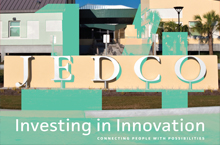 Check out JEDCO's online brochure »
Download the PDF version »
Focus On


People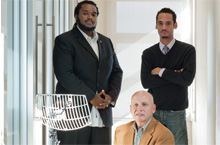 "We're excited to be a part of the JEDCO Business Innovation Center. JEDCO offers us the ability to grow and thrive by providing critical operational resources and contacts throughout the Gulf South. We're just getting started, but the sky's the limit."
Charles Easterling, CEO,
Crescent Unmanned Systems