We're changing the face of Louisiana. Churchill Technology & Business Park will be home to some of the country's finest technology companies.
Latest News
July 3, 2014
JEDCO is seeking a highly-experienced economic development professional with strong communication skills to fill the Deputy Director position within the organization. Read more »
July 1, 2014
Through the Grow with JEDCO series, JEDCO hosts a sales and marketing seminar for small businesses. Read more »
June 26, 2014
Global Commerce & Services graduated from the JEDCO business incubator program at the end of June 2014. Read more »
June 13, 2014
JEDCO opened a brand new conference center in the Churchill Technology and Business Park Read more »
Focus On


Service
2012 JEDCO Annual Report
The success of Jefferson Parish businesses remains the primary focus of JEDCO's economic development efforts.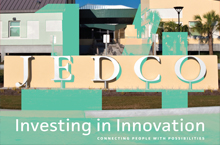 Check out JEDCO's online brochure »
Download the PDF version »
Focus On


People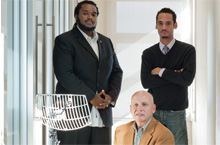 "We're excited to be a part of the JEDCO Business Innovation Center. JEDCO offers us the ability to grow and thrive by providing critical operational resources and contacts throughout the Gulf South. We're just getting started, but the sky's the limit."
Charles Easterling, CEO,
Crescent Unmanned Systems