We're changing the face of Louisiana. Churchill Technology & Business Park will be home to some of the country's finest technology companies.
The Challenge provides local entrepreneurs with a platform in Jefferson Parish to showcase their early-stage ventures.
Latest News
August 18, 2015
JEDCO and the Jefferson Chamber host a branding seminar for small businesses as part of the Prosper Jefferson seminar series. Read more »
July 16, 2015
JEDCO & Jefferson Chamber team up to bring small business owners an inside look into the inner workings of a successful human resources strategy. Join them July 29, 2015 for the Prosper Jefferson seminar on human resources. Read more »
July 14, 2015
KENNER, La — The Jefferson Parish Economic Development Commission (JEDCO) and the City of Kenner are pleased to celebrate the grand opening ribbon cutting ceremony of At Home, the home décor superstore, on Tuesday, July 14. Located in a 90,000 … Read more »
June 18, 2015
JEDCO nominated D & D Creations for the 2015 Louisiana Lantern Award. The costume manufacturer out of Kenner, La. received the award at a ceremony held at the Governor's Mansion. Read more »
June 16, 2015
(Fairfield, La) – Technology plays a vital role in a business environment. Often times, it enhances communication and efficiency, allowing a business to operate at a highly effective level. As technology continues to evolve to meet the needs of individuals … Read more »
Focus On


Location
JEDCO Conference Center
The JEDCO Conference Center is the ideal location for your next corporate meeting.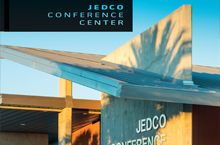 Check out JEDCO's online brochure »
Download the PDF version »
Focus On


People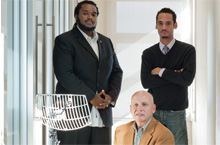 "We're excited to be a part of the JEDCO Business Innovation Center. JEDCO offers us the ability to grow and thrive by providing critical operational resources and contacts throughout the Gulf South. We're just getting started, but the sky's the limit."
Charles Easterling, CEO,
Crescent Unmanned Systems