Laitram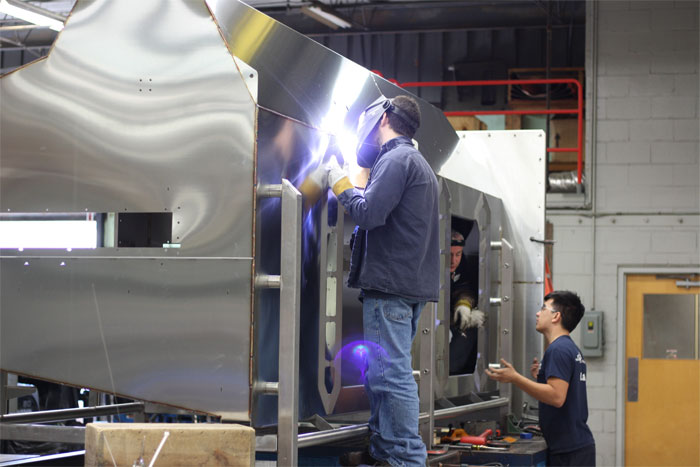 Laitram, LLC has a long history in Jefferson Parish. Its success stories are varied and plentiful. The company was founded in the 1950's with the invention of the world's first automated shrimp peeler. James Martial Lapeyre, who was 16 at the time of his invention, revolutionized the shrimping industry, allowing it to grow on the international scale we see today. James didn't stop there; he invented a conveyer belt and many other unique products that have helped the company to scale into the business it is today.   With over 1,000 patents to-date and 2,200 employees around the world, this family-owned business has become a major player in the manufacturing industry and has played a vital role in enhancing the region's economic landscape.
Laitram's philosopy of continuous improvement through innovation has helped it to become the global powerhouse it is today. "We're constantly looking for how we can do it better, how we can do it simply, how we can take waste out, how we can improve the through-put. How can we make each person's work be a more effective and higher use for that person's skill?" said Laitram President, Jay Lapeyre. "We try to organize ourselves structurally so that we're always capitalizing on the potential of each one person because we want try to elevate that [potential], capitalize on the learning, capitalize on the experience, and keep doing more with less."
Company leaders believe in investing in their employees. "We think business is noble work," Lapeyre said. "We think when people come to work, they should not only trade their time for a paycheck, but they should leave with a sense of pride. They should be able to work with people that they respect and admire, people whom they can learn from and can build their best qualities."
The company benefits from on-site health & wellness centers and a variety of healthy food options, which further promote productivity. It's part of a holistic approach to provide employees with a variety of choices to make each day on the job rewarding.
In 2016, Laitram was chosen to receive JEDCO's Business Retention and Expansion Award, a recognition bestowed upon an organization, individual or company that has been instrumental in the retention of Jefferson Parish jobs and businesses. Laitram has played a vital role in workforce development and economic growth in Jefferson Parish and across the region.
"Jefferson has always had a pro-business attitude which has been a big part of what has enabled us to be successful here," Lapeyre explained. "As we've built to a critical mass, we've been able to attract the core talent that we need and I think that talent has helped us to attract more [talent]. We feel good about being here."
Laitram has built partnerships with area colleges and schools, including Cullier Career Center, Delgado Community College and the University of New Orleans. These partnerships align education and training with the needs of the manufacturing and technology sectors to play a significant role in addressing the region's workforce needs.
"It's not just about Jefferson. It's about the region and about the state. It's about the state being competitive and Jefferson being competitive," says Lapeyre. "I think we've seen an increased level of understanding from business and political leaders that we have to competitive at every level."
This structure and pro-business philosophy have worked well for the manufacturer. The company continues to innovate; it recently developed new roller belt technology to quickly sort products. Laitram is expanding its reach into sanitation and commercial stairs while maintaining a focus on technology for the cooking and seafood industries.
"We're going to keep innovating and keep trying to do better work and reach more customers and make them more profitable. By doing that we become more profitable and our employees make more money and Jefferson grows and that's our hope," said Lapeyre.