Spend Local Spotlight: ECS + My IT

My IT has long been a staple in the Jefferson Parish business community. The company is a member of the Jefferson Technology Alliance, a group of Jefferson Parish tech leaders that get together quarterly to discuss important issues related to the IT industry, such as workforce development, infrastructure and advocacy.
ECS (Enterprise Computing Services) and My IT joined forces in January 2020 to become the Gulf South's leading IT provider. Combined, they are among the top 5% of technology service providers in the world!
For this week's Spend Local Spotlight, we are delighted to share this interview with  Perryn Olson, Chief Strategy Officer at ECS + My IT. He talks about the IT business, data protection in a post- pandemic world,  and his thoughts on spending local.
Tell us a little bit about your business. What product or service do you provide to our residents?
We're an IT firm that offers outsourced & hybrid IT support, computer hardware, cybersecurity protections, and technology consulting.
How many employees do you have?  How long have you been in business?
We have over 75 team members across Louisiana including 30 team members working out of our Metairie office, which started in 2000.
What made you want to open your business?
We were founded to help businesses become proactive with technology challenges. By reducing the amount of time being reactive, we support technology as a catalyst for growth and prosperity.We want our clients to consider us part of their team, as if we are their internal IT department, hence the name "My IT".
What are some of the biggest challenges your business has faced during the pandemic?
Pre-pandemic, many of our clients had remote access in place for their executives and a few key employees to work from home. In March, we had to transition nearly every position that could work remotely to work from home while simultaneously supporting our clients that still had boots on the ground like construction companies, medical practices, and auto dealerships.
Did your business pivot during the pandemic? If so, how?
We've become more nimble in how and where our team works. Traditionally, our remote help desk was working in our office with a few dedicated technicians working in the field. Now, our team members rotate weeks in the office, so we've relied more on messaging and video chats.
What are some of the trends that you are seeing in the tech industry in the wake of the pandemic?
The biggest trends are cybersecurity and digital transformation. I expect that many SMBs have gone through more digital transformation in the past 6 months than they would have expected them to go through in the next 10 years had the pandemic not happened. This transformation includes moving servers to the cloud, messaging apps like Slack & Teams, video conferencing software like Zoom and Teams, and internet-based phones to allow for remote work. Imagine pandemic life without mobile ordering, home deliveries, curbside pickup, video conferencing, and streaming services. Our world has been forever changed because we were forced to embrace newer technologies.
Cybersecurity has dominated the headlines this year as most homes are not fortified like an office, so companies must consider security as they implement each aspect of digital transformation.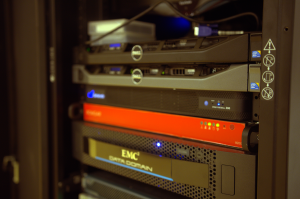 Your business offers cybersecurity and data protection to its clients. Can you share the best piece of advice you give to clients in a post-COVID world about how to protect their data when some employees are now working from home?
Data protection is not a single protection like anti-virus or a firewall. Cybersecurity requires layers of protection that must include security training for your team. Your team is your first or last line of defense depending on the attack vector, so you must make them more security conscious ensuring they are less likely to click on a phishing email or let a criminal posing as a telecom worker into your server room.  You must continue this security training to maintain your "human firewall" and to ensure new hires are trained as well.
Favorite success story?
Our team has not missed a beat this year. Being in IT, we couldn't shut down for a few weeks and figure things out. While our clients were transitioning to working from home, our team was there to help them. Our clients did not feel any adverse effects from us transitioning to work from home. In fact, our client satisfaction scores have maintained their usual high levels.
The team has been through a lot of change this year with COVID restrictions, working from home, and our merger that we announced in January. Behind the scenes, we've changed internal processes, promoted team members, and are getting used to working with a larger team in another office. We're coming out of these big transitions a much better company who is not only focused on providing our clients a better experience, but also stressing the importance of our team members' quality of life.
What is your favorite part about your business? 
Maintaining the long-term relationships with clients and vendors has got to be the best part. We've worked with many clients over 10 years, some for nearly 20 years now. Before coming to My IT four years ago, I worked alongside the company for 15 years as their go-marketing and web design source, so many of my clients from that period are still clients of My IT.
What is your favorite part about doing business in Jefferson Parish?
The sense of teamwork between the parish government, JEDCO, Jefferson Parish Chamber, businesses, local organizations, etc. Even in our tech alliance, we are friendly with competitors and here to make the community better.
How important is it for your business that people (and businesses) spend their dollars locally? How does it help you?
Although IT can be done remotely, there is a strong local element to our business with on-site support and with our relationships with clients. When we merged with a Shreveport IT firm earlier this year, some people (team members, clients, competitors) thought we'd centralize our help desk in Shreveport. We believe in a local presence and IT support by people who know the area. Spending money locally benefits the community as a whole.
Advice for entrepreneurs?
Don't make short-term decisions with long term consequences. Often entrepreneurs are worried about today and tomorrow, not 3-5 years from now. Some short-term decisions can have large, sometime expensive, consequences.
Anything else you want to share?
A big thank you to JEDCO. As a Jefferson Parish resident and business leader, I appreciate your organization's impact on the overall quality of life in our parish. This Local Spotlight is a perfect example of your team's dedication to the existing businesses in the parish.
Website: www.myitsupport.com/
Social Media: Facebook  Twitter  LinkedIN