Business Spotlight: Akasia's Cafe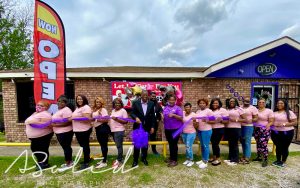 What sets your business apart from others like it?
Comfort Food in our own neighborhood on a major highway! It is also the headquarters for The Culinary Queens of New Orleans
How many employees do you have?  How long have you been in business?
6 Employees; The Café has been opened for a year and the Catering Company, Let Us Cater for You since 2016.
What made you want to open your business? What inspired you?
Cooking is my passion; Food brings people together.  I have used my talents to work for others in the culinary industry but I knew I could inspire other through food on my own terms.
What do you love most about your business? Please explain.
Akasia's Café is more than a place where you can come and get a good meal.  People pray here over food.  People network and make business deals in this Café over great food.  People laugh, cry and rest here over a great meal.
What is your favorite part about doing business in Jefferson Parish?
I love doing business in my Parish because it is where I was born and raised.  I am actually giving back to the community that has given so much to me.
What are some of the biggest challenges your business has faced?
Crime. We have already been vandalized many times but we are resilient and we are not going anywhere.
What is one of your proudest business accomplishments?
We were able to feed people during Hurricane Ida!
What is your best advice for entrepreneurs?
It will not be easy but it is worth it! Start the business you always wanted to start.  This is your legacy.  Your children, family…they need you to step out on faith and follow your dreams.
What is the most important lesson you've learned from running a business?
No day is the same.  Make sure you make time for self-care and rest.  Entrepreneurship is not for the faint at heart.
What advice would you give to other women who want to start their own businesses? 
Women are so used to taking care of others and playing the background.  BE FEARLESS! You CAN have it all.  You can be a business owner AND be a successful mother, wife, etc.  It is never too late.
We'd be remiss if we didn't also talk about the Culinary Queens of New Orleans. What is it?
The Culinary Queens if the city's first and only parade Krewe dedicated to women who own businesses in the Culinary industry.  The Krewe revived Mardi Gras in a community that has not had a parade in over 30 years.
How did you come up with this idea?
The Culinary Queens began as a social and professional networking organization.  Then, it was brought to our attention that the unincorporated Westbank of Jefferson Parish had not had a parade in 30 years.  It was the perfect fit to develop a Krewe to help our community.
What has the response been to this new krewe?
PHENOMENAL.  The media coverage has been more than we ever expected!  Our community needed this Krewe and it showed on parade night, 2-22-22!
Do you have a favorite book on business, leadership or company growth that you'd like to share?
THE BIBLE.   I quote Bible scriptures all day to keep myself motivated…it was the Bible that got me through my darkest hours.  I have survived prison; I have survived losing my first born to Epilepsy; I have survived the worst life has to offer…THE BIBLE GOT ME THROUGH
Anything else you want to share?
You only get one life.  You may fall…GET UP AND KEEP GOING! You may be dealt a hand that you feel you cannot come back from….AS LONG AS YOU ARE BREATHING YOU CAN LIVE AGAIN!  Do not give up! Start that business! Go on that trip! Meet new people! Welcome the possibilities of success.  Don't limit yourself.
Website: https://www.letuscaterforyou.com/
Instagram: @let_us_cater_for_you_