JEDCO's Ready & Resilient Webinar Series helps business owners stay In the Know during Hurricane Season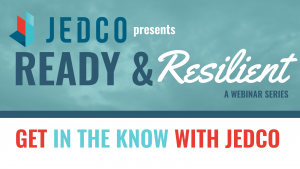 With just one month of Hurricane Season left to go, we urge Louisiana residents to continue staying prepared and vigilant. Earlier this season,  JEDCO worked closely with experts at the local, state, and federal levels to create the Ready and Resilient webinar series. Throughout the month of August, JEDCO hosted virtual informational sessions to educate and empower homeowners and business owners to prepare for the busiest part of storm season. Information and recordings of each Seminar is provided below:



Know Your Policy:


featuring Ron Camarota, Louisiana Department of Insurance
Tuesday, August 16, 2022
WATCH HERE
For most people, a home is the largest single investment they will ever make. Ron Camarota will take the mystery out of the homeowners insurance claims process, show policyholders what they can do in advance to ensure they are well prepared to navigate hurricane season safely and with less stress, and provide an overview of the Policyholders Bill of Rights. Let the Louisiana Department of Insurance help you be prepared and protected now, not after a disaster strikes. Powerpoint available
here
.



Know Your Disaster Recovery Options:


featuring Jennifer Lapeyrouse, JEDCO, Carmen Sunda, LSBDC, and Susheel Kumar, SBA
Wednesday, August 24, 2022
WATCH HERE
In the event that your business experiences damage or disruption from a disaster, it is important to know what you need to do in order to receive proper support. Whether you are looking for a line of credit or seeking an economic injury disaster loan, there are steps you need to follow and plans you should make ahead of time. Our experts at JEDCO, Louisiana Small Business Development Center, and the Small Business Administration will walk you through documents to have ready post-storm, suggestions for obtaining available credit before a storm, and the steps you need to take to secure a loan from the federal government should your business sustain physical or economic damage. Powerpoint available
here
.



Know About Risk 2.0:


featuring Gilbert Giron, FEMA
Tuesday, August 30, 2022
WATCH HERE
Purchasing flood insurance is the first line of defense against flood damage and a step toward a quicker recovery following a flood. FEMA updated the National Flood Insurance Program's (NFIP) risk rating methodology through the implementation of a new pricing methodology called Risk Rating 2.0. In a community prone to hurricanes and flood risk, the new Risk Rating 2.0 program will have an impact on homeowners and business owners alike. FEMA's experts will provide more information about the program and how it will affect Jefferson Parish's residents.