Small Business Spotlight: Leaaf
Gretna-based Leaaf Environmental is a recognized leader in soil, groundwater and air quality investigations in Louisiana and across the Gulf Coast. Leaaf is a woman-owned small business with a growing team and a long list of clients across multiple industry and government sectors.
As part of JEDCO's new initiative to feature small businesses on our blog, we asked Leaaf Geologist and Co-Owner Jesse Hoppes to answer a few questions about the business.
What does Leaaf Environmental do?
Leaaf is an environmental consultant firm that assists commercial, industrial, and government clients. We help them with environmental concerns at properties or real estate that they own or are looking to acquire. Most of these concerns are related to regulations from the Louisiana Department of Environmental Quality (LDEQ) or federal regulations.  Leaaf has three divisions, including:
Indoor Air Quality: asbestos, lead and mold inspections and consulting
Soil and Groundwater: Phase I/II ESAs, soil and groundwater investigations
UST and Remediation: underground tank removal, remediation of soil and water, and permitting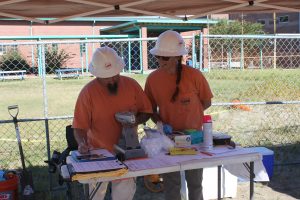 How long has Leaaf been in business?
Leaaf has been in business for 14 years.
How many employees does Leaaf have?
Twenty full-time employees. We are currently interviewing our next employee now!!!
What made you want to go into this business?
I did not know what I wanted out of my career after college, and I was not prepared to pick a path at that point.  I wanted to use my degree in geology and landed in this field, as there was an opening for a scientist position at another firm. Over time, I grew to enjoy the problem-solving aspect and diversity of projects that consulting brought to me.  I was thrilled when my partners brought me in as an owner.
Why is this work so important?
Leaaf stresses that our job is to help clients minimize environmental risk. It's important for landowners and developers to review their potential environmental liability prior to purchasing a property or to develop the most efficient ways of limiting their costs or liability going forward on properties they own.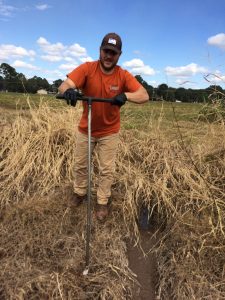 Proudest moment?
About four years ago, Leaaf successfully won the contract with the City of New Orleans to help manage their fuel stations and provide environmental services to other departments. At the time, Leaaf had about 8-10 employees, and this contract was a big goal for us.  Leaaf put the effort of the full team to show the strengths of each of our employees and was able to unseat a 20-plus year incumbent. This contract allowed Leaaf to grow by two employees and staged us for the path of continued growth that we have been experiencing to today.
What do you like about doing business in Gretna?
The community on the Westbank, and particularly Gretna, has a small-town feel. Everyone knows each other and it has been an extremely warm community to work in. The property costs for what you get are also more reasonable, and it has great access to the City of New Orleans and the greater metro area, where many of our private clients are located.
Can you share a favorite success story?
Leaaf has several moments that we are proud of, but one of the most recent that comes to mind is being selected for a second time to be the environmental consultant by LDEQ for their inactive and abandoned sites program. Leaaf had to bid against 12 companies and made the cut for another 3 years. It has been a pleasure working with the state on these complicated projects.
Advice for entrepreneurs?
Always take the time to help anyone that may need your services. Spending time with people helps you understand what your clients really need and will lead to developing a relationship that will last many years.  Leaaf has many clients that we have served for 10 plus years.
You can learn more about Leaaf at www.leaaf.com.