Spend Local Spotlight: Shop Local NOLA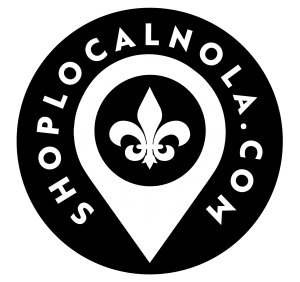 When JEDCO launched the Spend Local JP campaign over the summer, Jacquie Bonano, owner of JB Communications, immediately reached out to us with an idea for a partnership. The local marketing firm recently developed Shop Local NOLA, a comprehensive directory of local businesses in the Greater New Orleans area. They helped created a special landing page for the Spend Local JP initiative, making it easy for consumers to find Jefferson Parish based businesses.
We interviewed the Shop Local NOLA/JB Communications team to learn more about Shop Local NOLA and what it means for the community.
Please tell us a little bit about Shop Local NOLA?
Shop Local NOLA is a free service and is the largest directory of verified locally-owned businesses in the Greater New Orleans area. It was developed to benefit local businesses, as well as the community, by organizing locally owned businesses in one user-friendly website.
ShopLocalNOLA.com puts all of these amazing businesses in one place so Jefferson Parish residents can easily find the products or services that suit their needs. Whether the need is for food, shopping, or professional services, Shop Local NOLA is all-encompassing and includes everything from bakeries to business law.
How did you come up with this idea?
The focus of JB Communications has always been on supporting businesses that need guidance while strengthening their brand and improving their visibility. We wanted to take this a step further and do our part to help the local economy by using our marketing experience and creative talents to create ShopLocalNOLA.com. The marketing team at JB Communications founded Shop Local NOLA after we witnessed firsthand the economic disruptions the pandemic had on businesses in the Greater New Orleans area. Our first priority was to keep our clients visible throughout the pandemic, and we soon discovered that there were few, if any, user-friendly online directories for verified, locally owned businesses.
The website launched in July of 2020, but the idea was in the works at the very beginning of COVID-19, when our team brainstormed a way to make the idea of online visibility for local businesses more accessible and user-friendly.
How many businesses have been verified through your website?
Nearly 2,000 overall listings and over 600 Jefferson Parish listings! That's why ShopLocalNola.com is the largest online directory for verified, locally owned businesses in the Greater New Orleans area. And for businesses that are not already pre-verified, it's quick and easy to register and get verified. The JBC team researched and pre-verified businesses before the website's official launch, so it would immediately be a valuable resource for the community. Since Shop Local NOLA's launch, the database has continued to grow as more and more businesses register. We encourage all local businesses to submit a listing and input their unique business information! Registering is easy and will increase their online presence.
What does a business have to do if they want to be listed on the site?
If a business is locally owned and active and in good standing with the Louisianan Secretary of State, it may already be verified on ShopLocalNola.com, and the listing is just waiting to be claimed! If this is the case, the business owner simply needs to claim the listing and select the listing package that best suits their needs. For businesses with more than one location, it's easier to register under the Premium Package because all of the listings will be managed through one email and one User Dashboard. The User Dashboard contains important, easy-to-understand analytics about your listing, such as page views and clicks.
If a business has not already been pre-verified, they can easily create an account, select their preferred package, and create the listing! The process takes less than five minutes, and we offer tutorials and resources on ShopLocalNola.com.
Are there are special features of this site that you'd like to share?
Too many to count! One feature that makes Shop Local NOLA stand out is the user-friendly nature of the website. ShopLocalNOLA.com was built for business owners who need to take advantage of a quick resource, and users who need to make a quick search. For users, the search is customizable, so they can search based upon industry, location, and even whether the business is black-owned, minority-owned, or women-owned. We've programmed hundreds of tags, so businesses are that much easier to find.
In addition to the standard listing features (which includes business information, contact information, website links, and photos), both of our packages also offer easy-to-understand User Analytics, so business owners can track how many clicks and views their profile receives.
For businesses with more than one location, our Premium Package offers email support, featured placement, social media links, and service highlights. When a business signs up for the premium package, they also receive a featured post on our social media platform.
You approached JEDCO about partnering on the Spend Local JP campaign, and you developed a beautiful landing page for Jefferson Parish businesses. Can you talk about the importance of spending locally, especially right now?
We thought the combination of Spend Local JP and Shop Local NOLA couldn't be more perfect! We felt that a user-friendly website with a list of verified locally owned businesses would be an asset to strengthen this incredible Spend Local initiative even further. We are honored to be a part of this project because the area's culture is reinforced by the strength of its incredible network of unique stores, eateries, and businesses. The beauty of the Greater New Orleans area lies within this colorful infrastructure. Now, more than ever, it is important for local residents to go out of their way to find locally owned spots to patronize. If everyone does, New Orleans will continue to thrive. The Spend Local JP campaign and the Shop Local NOLA platform make it even easier to find locally owned businesses.
JB Communications, which designed and developed the Shop Local NOLA website is based in Jefferson Parish. Can you tell us what you like about doing business in our community?
While we are based in Jefferson Parish, ShopLocalNola.com was built with the entire Greater New Orleans area in mind! But because we have been a Jefferson Parish business for over 25 years, we have had the opportunity to dine and shop at tons of amazing, locally owned businesses near our office. And we always make sure to post their pictures on Shop Local Nola social media! Jefferson Parish makes it easy to find a reason to celebrate because of the incredible selection of restaurants and boutiques. Birthday? Let's go out to lunch! New haircut? Let's go out to lunch!
This weekend (September 26) is National Pancake Day! Where do you recommend residents go for a great stack of pancakes?
So many choices! On Shop Local Nola, there are over 30 choices, to be exact. (If you search "Pancakes," all of the options will pop up! You can even filter by region and category.) Our favorite pancake spot has to be Joe's Café. They're fluffy, fortifying, and they come out of their local kitchen perfect every time.
Anything else you'd like to share that I haven't asked?
Just that ShopLocalNola.com is meant to be used as a resource for local businesses and consumers. We created the directory because we want to see every single locally owned business in the Greater New Orleans area pull through the pandemic. In some small way, this project is a method for us to give back to the culture and community that brings us so much joy on a daily basis. Our overall goal is to encourage consumers to shop local first before using non-local e-commerce.
Email Address: info@shoplocalnola.com
Phone Number: 504.644.6288
Instagram: @shoplocalnola
Facebook: @shoplocalnola
Twitter: shoplocalnola