Spend Local Spotlight: NOLA Kidsground
This week, JEDCO is excited to spotlight a small business that utilized JEDCO's financing programs to open their doors in Elmwood. NOLA Kidsground is an indoor playground for young kids. The business opened in the summer of 2019 and has started to overcome the many challenges associated with the COVID-19 pandemic to reopen their doors to families.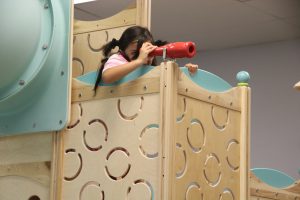 Tell us a little bit about your business. What product or service do you provide to our residents?
NOLA Kidsground is the Greater New Orleans area's premier indoor playground, family edu-tainment play center, and party place. We feature a beautiful, sustainable wood playground structure, which makes NOLA Kidsground the perfect place for kids to run, slide, climb and allow their imaginations to soar. Children will find even more hands-on fun with a magnetic ball run and oversized "light bright." We are focused more for 7 and unders but even the youngest explorers (crawlers and beginning walkers) will have loads of fun especially within our dedicated toddler room featuring soft play toys and a relaxing reading nook. Last but not least, adults will also be able to relax at NOLA Kidsground as there is a comfortable sit-down area with a great selection of gourmet coffee and beverages.
How many employees do you have?  How long have you been in business?
We opened last June and held our grand opening in July of 2019, so we have been open for play for a little more than year. We currently have a total of four employees. We also partner with outside educators, who come in to lead "edu-tainment" activities for our special events, like our Mommy & Me Spanish program and our recent Fa-Boo-lous private play date on October 31st.
What made you want to open your business?
We wanted to be able to provide a clean, safe space for NOLA kids and families to come and play, where they can not only have fun, but where their imagination is sparked as they learn through discovery and play. We also hoped to bring STEM activities and learning programs to the area. As parents ourselves, we wanted NOLA Kidsground to be more than just a place for children. We also wanted to create a comfortable space where adults can gather and catch up with friends and family and relax with a cup of coffee hand-brewed by our trained baristas while their children play.
What is your favorite part about your business?
Our favorite part of the business is being able to hear the sound of children laughing, playing, and having fun. We are always amazed by the creative things that kids end up inventing with our toys and equipment. Not too long ago, a girl was able to play "don't touch the lava" with our soft play logs. Even after all of the day's hard work, it's worth it when we are able to see the look on their faces after playing here.
NOLA Kidsground was able to open with help from JEDCO. Can you talk about your experience with JEDCO and the JEDgrow Loan Program?   
Working with JEDCO was a wonderful experience. Everyone on the staff has been so nice and so helpful. They are such a great resource for us as first-time business owners and helped us seamlessly navigate the process of opening a business. It was a relief when JEDCO believed in our idea and wanted to back us in making our dream become a reality.
What is your favorite part about doing business in Jefferson Parish?
We are honored to be first-time business owners in Jefferson Parish where we grew up and where we can now give back to the community.
How important is it for your business that people spend their dollars locally? How does it help you?
As a small, local, family-owned business, we love welcoming local families to NOLA Kidsground for safe play. When people spend their dollars with us, we are able to support not only our local employees but also other small businesses that we have partnered with for our different programs and services. We are also committed to supporting local non-profit organizations through sponsorships and donations.
What are some of the biggest challenges your business has faced during the pandemic?
The biggest challenge that we are facing during this pandemic is not being able to serve our purpose of playing and learning with the children.  With the slow down in business we are hoping that children haven't forgotten about us and that we are still here.
Did your business pivot during the pandemic? If so, how?
We have pivoted to private play dates as a safe way to play and have ramped up our cleaning routines. Hopefully by offering private play dates on the weekdays, we are able to create for those families and friends a socially distant experience within their own pods. These private play dates include the use of the facility (excluding the party room) with 90 minutes of play.
How does it feel to support kids – especially during this challenging time?
NOLA Kidsdground felt empty when Covid-19 first hit. Once we were able to open, It felt wonderful being able to offer families a place where their children can safely play within their own pods. All of the families who joined us for private play dates told us how much they appreciated having a change in scenery for their children.
Favorite success story?
A mother shared with us that one of her children was terrified going down playground slides.  Our own child was playing with the little one and was able to help not only calm her down but also assuaging her fears as she finally worked up the courage to go down the slide. Seeing the growth of not only our own child but also the growth of this parent's young child is definitely one of the best feelings of having NOLA Kidsground.
Advice for entrepreneurs?
Don't be afraid to take a risk and follow your dreams. Definitely do your research and put together a well thought out, comprehensive business plan before initiating anything. Most of all, you must have passion for your idea because owning a business will bring many challenges.
CONTACT:
Email Address: info@nolakidsground.com
Phone Number: 504-354-9528
Facebook Handle: https://www.facebook.com/nolakidsground
Twitter: https://twitter.com/nolakidsground
Instagram: https://www.instagram.com/nolakidsground/
Website:  https://www.nolakidsground.com/