Spend Local Spotlight: COUZANS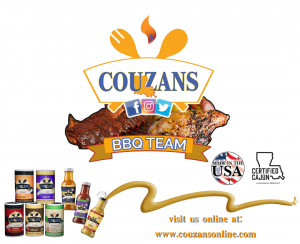 All this month, JEDCO is thrilled to feature Black-owned businesses and their contributions to the regional economy. Small businesses are the backbone of the Jefferson Parish economy. We are honored to share the success story of COUZANS, a local family-owned catering company and food manufacturer. You may have seen the COUZANS BBQ trailer out and about the Parish as cousins Sherman and Eddie Bunch grill up delicious eats for their customers. But this dynamic duo also sells their special spice blends and rubs that give their catered meals such great flavor! Find them online here.
We caught up with Eddie Bunch to talk about how the business was born out of crisis, one of his proudest business accomplishments and the advice he would give to entrepreneurs.
Tell us a little bit about your business.
COUZANS was founded in 2006 by Cousins Sherman Bunch and Eddie Bunch, which means Family and Friendship. In which we created a team of business partners that bring to the table their own flare and cooking skills to the team that would NOT only HELP, but push us to compete in various competitions, but also give us diversity in our catering endeavors.
What product or service do you provide to our residents?
COUZANS offer an array blends designed to enhance the flavor of your food from beef, chicken, pork and seafood to help bring out the "INNER" Chef in you. COUZANS Gourmet Rub, Seasonings, and Sauces contains NO fillers, is Gluten-Free, MSG-free, and contain non-GMO ingredients. COUZANS Gourmet Rub, Seasonings, and Sauces is an All Purpose – Flavor Enhancing – Easy to Use – Salt Alternative Blend, which promotes healthier seasoning options to those that are Diabetic, those that may have been diagnosed with High Blood Pressure or those individuals simply making lifestyle change.
How many employees do you have?
We do not have employees, we have (4) other business partners to help carry the load.
How long have you been in business?
We started building in 2006, but officially on paper since 2013.
What made you want to open your business?
We decided to start COUZANS Barbecue Team after Hurricane Katrina and Rita because we had cooked for a few companies and first responders and was like we could take this disaster catering to another level.

What inspired you?
My dad was extremely ill and didn't want to eat because everything had salt in it, I developed a blend that allowed us to season his food. We then took that product along with the others and started entering various BBQ competitions around the BBQ circuits and started to win (LOOKS SHOCKED) but didn't know how we was winning because every Chef would add something to every dish without telling what he added. We decided to develop several blends and perfect those.
What do you love most about your business? Please explain.
We love seeing the look of our product(s) being sold in stores, at pop-up shops, and online and to just think that we created these awesome product(s), and we get to use them everyday cooking for our family and customers.
What is your favorite part about doing business in Jefferson Parish?
Jefferson Parish is OUR home. We ALL live and love the Parish and would love to see it prosper.
How important is it for your business that people spend their dollars locally?
It is very important to help our local economy to grow, especially here on the Westbank. Sometimes it seems as if the other side of the river doesn't know we exist but with the right folks, they'll know. When locals spend their hard earned money with us, they are putting money in our pockets and allowing us to give back to our communities by way of various contributions including catering some events.
What are some of the biggest challenges your business has faced during the pandemic?
Having everyone onboard at one time to service the customers. Some partners are scared to be around the others even with the proper mask and social distancing and that have created other issues for our company. We weren't trusting that each one of us would protect our circle, in order to fill orders and ship the product(s) out.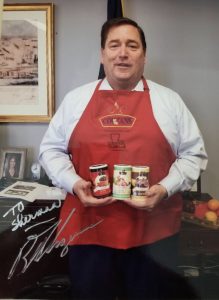 What is one of your proudest business accomplishments?
Being able to get our product into the hands of our Lieutenant Governor so that he can send OUR product to every Lieutenant Governor in the United States and to have completed our catering trailer in service with every inspection completed, so that we can travel more to get our product(s) into more stores.
What is your best advice for entrepreneurs?
Always start and include GOD in your decisions. Stick to your dream and seek assistance if you don't know.
What is the most important lesson you've learned from running a business?
It takes a village. Surround yourself with people that if a question arises and the answer isn't there, SOMEBODY will go and get it and bring it back.
Do you have a favorite book on business, leadership or company growth that you'd like to share?
How Successful People Lead by John Maxwell. Successful people listen first, think about it, and then act.
Anything else you want to share?
You DON'T have to play every position but KNOW them like you have too.
Visit the COUZANS website here.
Check out COUZANS on Facebook here.