Spend Local Spotlight: Nola Sports Center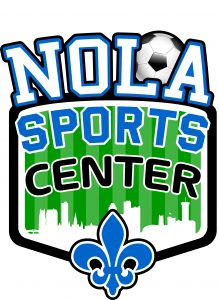 Nola Sports Center is an indoor soccer facility located in the Esplanade Mall. It is uniquely designed for soccer enthusiasts and offers a variety of services including small group trainings, soccer camps, clinics, private field rental for small groups, birthday parties and corporate events. The new facility very recently opened with help from JEDCO. The finance team provided Nola Sports Center with a JEDgrow Loan in early January. JEDCO financed 86% of the total project.
We asked founder, Rafael Carmona, to share a few details about his new business in this week's Spend Local Spotlight!
How many employees do you have?
3 in addition to 2 more part time trainers depending on events
What were you doing before you joined the business?
Training youth teams at the park and working full time at an Industrial Plant
What made you want to get into this line of work?
Passion for the sport of soccer, long time dream and ambition to growth financially.
What is your favorite part about doing business with your family?
The chemistry of working well together and getting things done in an efficient manner.
What is your favorite part about doing business in Jefferson Parish?
I believe the area has a great potential for entertainment activities for family as well as children.
How important is it for your business that people spend their dollars locally? How does it help you?
It is important because it is what drives the local small entrepreneurs to want to get creative and put ideas together for new businesses and in turn help the economy.
Did your business pivot during the pandemic? If so, how?
Yes, we were not able to open up early during the pandemic due to the fact it is a sports venue and we were not able to run soccer leagues. We since modified the programming to small groups in order to move forward in the business.
How does it feel to support local residents during this challenging time?
I think it is very important because families and children especially have undergone a lot of stress and anxiety in recent months and this model would serves as a high entertainment center where children can slowly gain all the fun in soccer.
Advice for entrepreneurs?
If you have a passion for something, take action and spend a lot of time doing research if there is a need for a service, get creative, be persistent, have patience, do not give up and work super hard to reach your goal.
If you have a desire for something, entrepreneurs should take classes, trainings and everything that it takes to prepare and create a complete plan of action.
Anything else you want to share?
Nola Sports Center will in the future be hosting events for the less fortunate, children with special needs among other events.
CONTACT NOLA SPORTS CENTER
Email Address: info@nolasportscenter.com
Phone Number: 504-355-1628;
Website: nolasportscenter.com