Small Business Spotlight: Therapeutic Learning Center
Jefferson Parish is home to a diverse array of incredible, impactful and innovative businesses and business owners! Therapeutic Learning Center (TLC)  is an innovative pediatric Occupational, Speech, and Physical Therapy practice dedicated to improving the well-being of children within the greater New Orleans area. The company provide services at its outpatient clinic, public and private schools, and ABA centers. This woman-owned business has nine full-time employees, nine part-time employees and five contractors.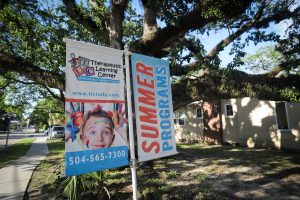 Jenny Domiano is the founder and owner of TLC. She graduated from Stephen F. Austin State University with a bachelor's degree in Rehabilitation Services. She then went on to earn her Masters degree from Texas Woman's University in Houston. Jenny has worked as an occupational therapist for 22 years in a variety of practice areas including mental health, brain injury rehabilitation, ergonomics, and pediatrics, where she has truly found her calling. She has worked extensively with children at Children's Hospital, as an Early Steps provider for the state of Louisiana, and providing occupational therapy services in the schools of greater New Orleans. Jenny is a mom of two daughters and is committed to working with families to make therapy both enjoyable and meaningful for the whole family.
We caught up with Jenny for this Small Business Spotlight to talk about what inspires her, her favorite part about doing business in JP, and the best advice she would give to young female entrepreneurs. Get ready for some insightful answers about working with young people and their families as well as an excellent Disney reference (if you work with kids all the time, Disney references are a must)! A big thanks to Jenny for sharing her story with us!
What do you love most about your business?
I love the opportunity to meet the many families that we work with. I do my best to be present when the families arrive and I try to stay involved with them throughout their time with us. I also love my team. We enjoy coming to work every day and enjoy each other's company.
What made you want to open your business? What inspired you?
I saw a need for more inclusive services in an environment that welcomes the entire family into the process in order to make a more significant impact. We treat our clients like family, so everyone feels welcome and comfortable in our home-like atmosphere. Working in school settings allows us to communicate and collaborate with the children's teachers in order to incorporate the entire education team when working on goals and utilizing strategies in the classroom.
What is your favorite part about doing business in Jefferson Parish?
I love the community of Jefferson Parish. TLC is located on the Eastbank of Jefferson Parish and is centrally located; thus, it allows us to service the families of the greater New Orleans area, but receive the benefits of working in Jefferson Parish.
How important is it for your business that people spend their dollars locally? How does it help you?
As a small business, I appreciate it when the residents of the greater New Orleans area support small businesses like mine. I believe that by receiving services at a small business like ours, clients can receive personal attention as we are very accessible and get to know them well. Like I mentioned previously, we do our best to treat our clients like family.
What are some of the biggest challenges your business has faced during the pandemic? Did your business have to pivot?
The pandemic allowed us the opportunity to change the way we were providing services. We began to provide virtual therapy (or teletherapy) to clients in their homes; involving the family as much as we can using a coaching model, especially for the younger clients that have a harder time with the virtual therapy sessions and need more parental involvement. We continue to have some families who receive virtual therapy, but most have returned to in-person services at the clinic or school.
What is one of your proudest business accomplishments?
I would say my proudest accomplishment is the success of our annual prom for children, teens, and young adults with special needs that we host every year called the "Heart & Sole Prom". The Prom started 6 years ago with 60-80 participants and in 2019, we had over 200 participants. We, sadly, had to cancel this year and last year due to the pandemic; however, we plan to host the prom in 2022 and promise that it will be bigger and better than ever. The Prom is definitely my favorite day of the year. It truly is a magical event.
What is your best advice for the next generation of women who want to be leaders in their industries?
I would advise them to never let fear dictate their decisions and like Anna in Frozen 2 sings, do, "The Next Right Thing." Use your resources and allow people to help you. Our community is full of great resources, like Jedco, that can help or point you in the right direction. Most people generally want you to succeed and will help; you just have to ask.
What is the most important lesson you've learned from running a business?
Running a business can be a 24-hour operation with worries, to-dos, calls, emails, etc. so I feel that it's very important to balance your time and make sure to carve out enough time for yourself, your family, and your friends.

Do you have a favorite book on business, leadership, or company growth that you'd like to share?
I would definitely suggest that business owners apply and take advantage of the local Goldman-Sachs 10K Small Businesses program that we are fortunate to have in our community. That education was so helpful for me in learning how to run and operate my business. Also, I love and recommend the book, The One Minute Manager Meets the Monkey, by Kenneth Blanchard. It's been a great resource when encouraging my team to solve problems rather than just report the problems.
Anything else you want to share?
We are gearing up for our busy summer months with our summer programs. In addition to our therapy services, we also have a new transition preschool program called "Buiding Blocks School Prep Program" to help those children struggling in their current preschool settings or for those who need to get ready for preschool.
We're happy to answer any questions at 504-565-7300. We're looking forward to meeting more families in the area!
Follow TLC on Facebook and Instagram. Learn more on the TLC website.