Small Business Spotlight: Classic Frame & Mat
Classic Frame & Mat is a family-owned  business based in the City of Gretna. Their work in the picture frame industry extends over 30 years. Small business owners Paula & Tony Jordan are committed to providing quality craftsmanship and personalized service. They have a passion for promoting local art and supporting both aspiring and professional artists and the art community.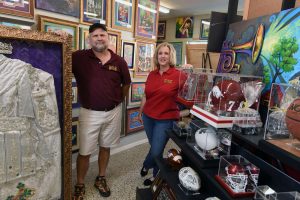 In the wake of the COVID-19 pandemic, Classic Frame & Mat – like so many small businesses in our community – had to make some changes to their business strategy.
The Gretna-based business pivoted their product and services to meet the dire need of local businesses impacted by COVID-19. While you'd typically see their craftsmanship in framing and casings in museums or your favorite Saints memorabilia, they're using the same material to create acrylic barriers and sneeze guards. Their decision to pivot allowed them to maintain their operations while also serving our community during these challenging times. We asked  Paula and Tony to share how the business pivoted and what it meant for their family business.
Why did you decide to pivot?
We are a small family business serving the art and picture frame industry. Like many others, we are at risk of losing our business with the extended closure forced by the pandemic. When we became aware of the need for protective shields, it was a natural turn. We have worked with acrylic for years. We already have the materials, equipment, and skills needed to make the move to meeting a need in our community. We didn't hesitate.
How does it make you feel to be able to serve our community during these unprecedented times?
You know, when we established our business in the art industry, I don't think we could have ever envisioned a scenario in which we would have an opportunity to be part of something so vital. Without a doubt it is rewarding to help area businesses prepare a safe environment to welcome the return of their employees, customers, clients, and patients. We are honored to serve a community that has served us so well for most of our lives. To possibly save our business at the same time? It's an answer to prayer.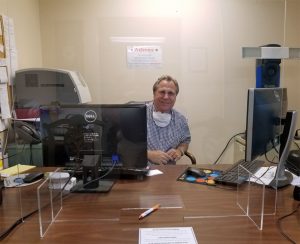 Protective Acrylic Shields/Sneeze Guards Specs
¼" clear acrylic
Size made to order
Our most popular size to date is 30" x 36" with or without pass through slots
We are working to keep a few 30" x 36" in stock
Custom sizes take about five days to produce
We will begin to stock other sizes if demand dictates
Uses: all contact areas like desks, checkout counters, greeting areas, tabletops, conference tables
We also enclose service windows
If desired, we can measure a work space and make size recommendations
Contact
Shop 504.361.5141
Cell 504.458.5223
classicframe@bellsouth.net
Hours:    Tue-Fri 10-4; Sat 10-1
We are suggesting that customers call before stopping by as hours may continue to flex until the state and parish allow us to reopen fully.