Jefferson Parish Pulse: Hispanic Chamber of Commerce
This week on the Jefferson Parish Pulse, we feature an interview with Mayra Pineda, President & CEO of the Hispanic Chamber of Commerce of Louisiana. The Hispanic Chamber has been an invaluable resource throughout the pandemic. The organization helped to usher in Spanish translations of important documents, resources and press conferences during the pandemic and they hosted weekly conference calls with experts to keep their network informed. Beyond that, they continue to do the important work of providing educational content, seminars on financial literary and more.
The HCCL is the largest Chamber in Louisiana and has won multiple awards over the years, including the US Hispanic Chamber of Commerce Chamber of the Year  and the WBEC South Partner Organization of the Year. The Mission of the Hispanic Chamber of Commerce of Louisiana (HCCL) is to foster the continued economic growth, development, and promotion of Hispanic businesses and their associations in the State of Louisiana, and to serve as the conduit between the Hispanic business community and the community at large.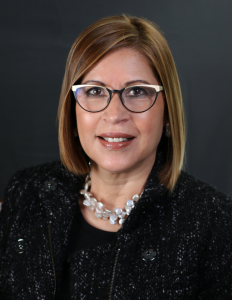 About Mayra Pineda
Mrs. Pineda is a local business woman and the President & CEO of the Hispanic Chamber of Commerce of Louisiana, where over the years, she has worked tirelessly to develop strong and long-lasting business relationships between Louisiana and the Hispanic Community and Latin America. Mrs. Pineda is a former Consul General of Honduras in New Orleans, Arkansas, Tennessee, Mississippi and Alabama. Mrs. Pineda has been the recipient of the Leadership Award by the New Orleans Hispanic Heritage Foundation, the High Achievement in Compliance by Subway Corporation, and Honoree of Men and Women of Fashion/Prix de Elegance, as well as SABAA Business Woman of the Year, in New Orleans, and the Personality of the Year by Que Pasa Festival, also in New Orleans. She is a former President of the NOHHF (2008-2011) and has been a member of the Board of Directors of the Foundation since 2000. She is also a current and active board member of the following organizations: The National Association of Subway Franchisees, The International Hospital for Children of New Orleans, The New Orleans City Park Board, The Jefferson Economic Development Board and The Cerro de Plata Tegucigalpa Foundation of Honduras, and the Jefferson Parish Diversity Board.
On this episode, Mayra talked about the work being down by the Hispanic Chamber during COVID-19, the importance of filling out the 2020 Census, and the value of partnerships to advance economic development and business growth.
Feel free to listen to the full interview below (or you can click here). You can also hear us anywhere you listen to your podcasts, including Apple Podcasts, Spotify and Stitcher. We would LOVE your feedback. Please send your thoughts, questions and show requests to Kelsey Scram at kscram@jedco.org.