Jefferson Parish Pulse: Barber Laboratories
This week on Jefferson Parish Pulse, we interview Linda Auld, owner of Barber Laboratories, a 99-year-old pest control supply store in Jefferson Parish. When Linda took over the business, she dedicated herself to learning as much as she could about the bugs in Louisiana. That way, when clients stopped by with questions, she'd have answers. Over the last 40 years, Linda has really gotten to know her stuff! In fact, she's such a wealth of knowledge that many people call her the NOLA BugLady.
While Linda is a true expert on solving pest problems, her real passion is in preservation and conservation of nature and the critters that live in it.
On this episode, Linda talks about taking over the family business, the importance of education and investment in the community and how she turned her business into her passion.
Check out Barber Laboratories here.
Visit NOLA BugLady here.
Feel free to listen to the full interview below (or you can click here). You can also hear us anywhere you listen to your podcasts, including Apple Podcasts, Spotify and Stitcher. We would LOVE your feedback. Please send your thoughts, questions and show requests to Kelsey Scram at kscram@jedco.org.
About Linda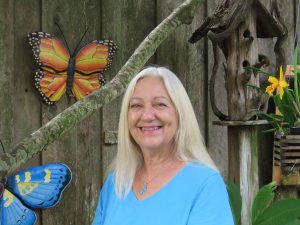 Linda Barber Auld, affectionately known as "BugLady," owns and runs Barber Laboratories, a pest control supply store founded in 1921 by her grandfather, Ernest R. Barber. In addition to helping New Orleanians solve their pest problems, for over forty years Linda has also studied and promoted understanding beneficial insects. She has raised 127 species of butterflies and moths, studying and photographing their life cycles. For 26 years she has participated or lead butterfly count surveys for the North American Butterfly Association. Since 2014, to help Monarch butterflies, Linda has installed seventeen school gardens in the Metro area, donated countless plants to public park gardens and created Monarch Waystations in seven different Louisiana cities.
Linda enjoys working with school and Scout groups. She gives presentations to garden clubs, plant societies, Master Gardeners and Master Naturalists groups. Her 2019 project was called "Geaux Grow Natives!" Its purpose was to promote using wildlife-friendly native plants. She has also written articles for the Louisiana Gardening Magazine, the Louisiana Native Plant Society, the Orleans and the Baton Rouge Audubon Societies, and the Southern Lepidopterists Society. On May 4, 2019, Linda self-published her first book, "BugLady's Butterfly Summer" currently available at Barber Laboratories, LongueVue Gardens gift shop, Allen Acres B&B (Pitkin, LA), Crosby Arboretum (Picayune, MS) gift shop, and on our her websites.
Linda's 2020 project is celebrating the life of Caroline Dormon, an intriguing and powerful woman born in the little town of Acadia back in 1888. She is famous for being an artist, teacher, conservationist, and the first woman spokesperson in the U.S. Forestry Service.  The NOLA BugLady will continue to promote her "BugLady's Butterfly Summer"  alongside the five books by Caroline Dormon.  Linda's powerpoint, "Caroline Dormon, Louisiana Pioneer Woman", about her fascinating life, her phenomenal accomplishments, her beautiful Briarwood Nature Retreat, and her fantastic books is guaranteed to be inspiring. All book purchases channel funds to Briarwood to aid in tornado damage restoration.
If this podcast piqued your interest in butterflies, bugs or plant life, Linda recommends checking out the Native Plant Initiative of Greater New Orleans and the North American Butterfly Association.