Jefferson Parish Pulse: Kingfish Cider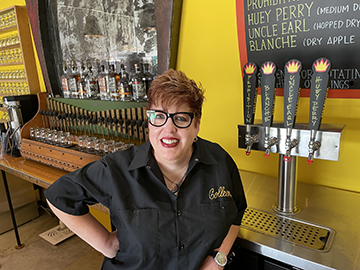 On this episode of the Jefferson Parish Pulse powered by JEDCO, we interview Colleen Keogh, founder of Kingfish Cider. Kingfish is a startup cidery and tap room, the first of its kind in Jefferson Parish and one of the few solely woman-owned alcohol producers in the US. The micro-distillery makes and sells several different types of hard apple and pear ciders.
Colleen stumbled upon the hard cider industry while traveling. She loved the cider so much that she decided to bring the concept back home. Of course, as a proud Louisianian, she knew she had to infuse her drinks – and her gather space – with some local flavors. She got to work, and in doing so, she realized she needed some help. That's where JEDCO comes in. JEDCO helped finance the project and we also provided other assistance to Colleen, like Parish interface and site selection support, as she went through the process of building a business from the ground up.
Colleen talks about learning how to make cider with no prior experience, what it means to see her business finally come to fruition after years of dreaming, and why she chose the name Kingfish for her company.
To learn more about Kingfish and its open hours, check out the website or follow them on Instagram.
Feel free to listen to the full interview below (or you can click here). You can also hear us anywhere you listen to your podcasts, including Apple Podcasts, Spotify and Stitcher. We would LOVE your feedback. Please send your thoughts, questions and show requests to Kelsey Scram at kscram@jedco.org.