Jefferson Parish Pulse: LeBrane's Creole Cuisine and Catering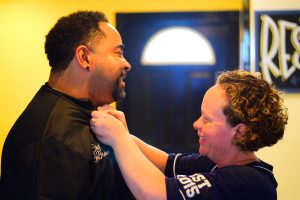 On this episode of the Jefferson Parish Pulse powered by JEDCO, we feature an interview with Carol and Myron LeBrane, founders of LeBrane's Creole Cuisine and Catering. This dynamic husband and wife duo had long-dreamed of owning a restaurant. Timing, fate and faith brought them together and helped make their dreams a reality. Myron and Carol share how they sought a loan with JEDCO to bring their bread pudding to market, but then, they switched gears when the building they'd been eyeing for years became available. Their loan – and their vision – got a whole lot bigger!
In the interview, Carol and Myron talk about how their faith is embedded in their work, what it was like to open their doors in the middle of the COVID-19 pandemic, and why they chose to launch their business on the West Bank.
Click here to check out the LeBrane's Creole Cuisine and Catering website.
Feel free to listen to the full interview below (or you can click here). You can also hear us anywhere you listen to your podcasts, including Apple Podcasts, Spotify and Stitcher. We would LOVE your feedback. Please send your thoughts, questions and show requests to Kelsey Scram at kscram@jedco.org.