Jefferson Parish Pulse: Crawlins Seafood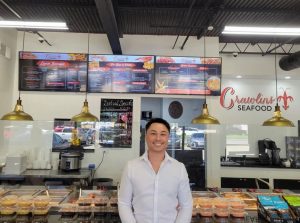 This week on the Jefferson Parish Pulse powered by JEDCO, we interviewed Jimmy Nguyen, founder and owner of Crawlins Seafood, a new Viet-Cajun seafood restaurant based in Terrytown. The business serves up heaping platters of boiled and fried seafood, poboys, gumbos, and a rotating lunch menu of specialty items, ranging from red beans and rice and spaghetti and meatballs. Jimmy, a hairstylist-turned restauranteur, worked with JEDCO to launch his new business, bringing to life his longtime dream of owning a restaurant. JEDO team financed approximately 65% of the project. The loan covered purchase of new equipment, leasehold improvements, working capital and inventory costs. Crawlins helped create 15 new jobs in Jefferson Parish.
We recorded the interview at Crawlins Seafood, a brightly lit gathering space with a floor-to-ceiling mural depicting key New Orleans landmarks. The business was open at the time, so you may hear the sounds of a swinging kitchen door throughout the interview – among other kitchen sounds. Jimmy talked about how he went from styling hair to running a restaurant, the importance of celebrating his Vietnamese culture through his recipes, and what visitors should try when they stop by Crawlins for lunch or dinner.
Follow Crawlins on social media:
Instagram
Facebook
Yelp
Feel free to listen to the full interview below (or you can click here). You can also hear us anywhere you listen to your podcasts, including Apple Podcasts, Spotify and Stitcher. We would LOVE your feedback. Please send your thoughts, questions and show requests to Kelsey Scram at kscram@jedco.org.